Sri Sri Ramkrishna Paramhansa and Sarada Devi were two of the holy beings on the earth.
"Mahapurush" Ramkrishna was born in Kamarpukur, West Bengal 17th February 1836 as the son of Khudiram Chattopadhyay.
Popularly known as "Godadhor" among his devotees and disciples, he paved the light for many people and had immense devotion towards Goddess Kali.
He married Devi Saradamani, who was the mother and the shelter of bewildered and anguished people. She was born in Jayrambati, West Bengal.
Their birthplace has been renovated and temples have been constructed on the spots so that people would visit the places and receive their blessings.
People can feel the positive vibe around the temple as well and so did we during our visit to these two places around march last year.
How to Reach Jayrambati – Kamarpukur from Kolkata?
You can take a train from Howrah to reach the Goghat station, the station after Arambagh. You can reach Jayranmbati and Kamarpukur from Goghat via a Toto or an Auto or van. It is at a distance of 6-7 km.
You can also visit Jayrambati Kamarpukur via an SBSTC bus from Dharmatala.
You can also visit by Car. It's at a distance of about 120 km from Kolkata and is, therefore, one of the popular places to visit near Kolkata.
Jayrambati and Kamarpukur Tour details
A two days tour will be perfect for you if you are willing to see the birthplaces of Ramakrishna and Saradamani and their temples. However, we had to complete the trip within one day as we had less time.
Where to stay at Jairambati – Kamarpukur?
If you are visiting this place and want to stay there for the night, you can find accommodation in lodges like Kalpaturu lodge, Sarada Lodge, and many other resorts.
There are several shops and parking lots on the way to the temple in case you are coming in your own car.
People can also stay in Ramkrishna Vivekanda Ramkrishna Maath opposite the Ramkrishna Mission.
Near the Sri Sri Matri Mandir there are also few accommodations that charge Rs 150-200 per head for the whole day.
JairamBati and Kamarpukur are the holy birthplaces of Sri Ramkrishna Paramhansa and Sarada Devi respectively.
We started our journey in the morning and reached Jayrambati by 9AM.
What to see at Jayrambati?
In the year 1923, 19th April on the day of Akshay Tritiya Swami Saradananda took the initiative to construct the temple of Ma Saradamani in Jayrambati. Devi Saradamani's idol was constructed in the year 1953.
Ma Saradamani was married to Ramkrishna Dev in this place itself at the age of 9.
The place is well maintained with a garden full of vibrant colored flowers.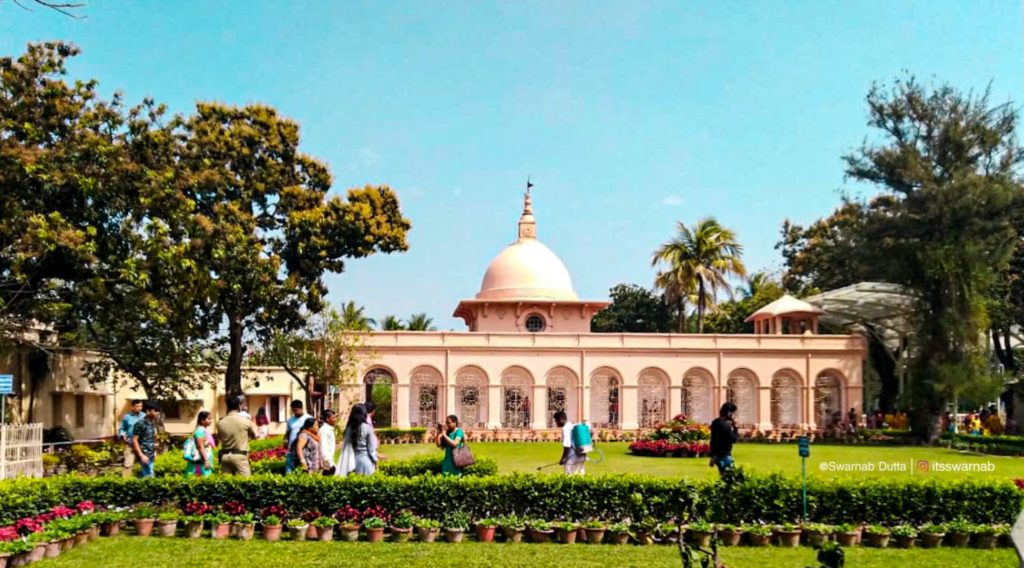 From April to September you can visit Matri Mandir from 5:30 am-11:00 am in the morning and 4:00pm -8:30 pm in the evening and in October to March the Mandir remains open from 6:00 am -11:30 pm in the morning and 3:30pm -8:00 pm in the evening.
You can listen to morning Arati if you can reach the temple by 5:00 am. If you want to try the Maha Bhog of Sri Sri Matri Mandir you have to buy coupons from the temple counter before 9:00 am.
There is also a maintained kitchen and behind the temple.
A few meters away from the temple there is Ramkrishna Vivekanada Mission. Many orphans study and stay here.
The guest house opposite to this mission is very cheap and has been named Sadhan Kuthi for the beauty and environment surrounding it.
You can know more about Jayrambati and the Matri Mandir in this article: Jayrambati Matri Mandir, Bishnupur – Timing, History and Places to visit
After spending some time at the Matri Mandir, we took our car and headed for our next stop for the day, Kamarpukur. We reached there at around 11:30.
What to see at Kamarpukur?
Kamarpukur is at a distance of 105 km from Kolkata and is present in the Hooghly district.
Jayrambati and Kamarpukur are present at a very short distance from each other.
The Ramkrishna Math is present in Kamarpukur decked up with greenery and plantations outside the temple of Lord Ramkrishna.
The temple is built over two straw huts which were being used by Sri Ramkrishna and his family.
Behind the original house, there is a Jugi Shiv Mandir. It is said that in this place Mother Chandramani Devi received a vision from Lord shiva that she would give birth to Gadhadhor, who is the incarnation of Lord Vishnu.
Opposite of Ramkrishna Math there is Haldar Pukur located which was the bathing ghat for Ramkrishna and Sarada Devi.
The Lahas were the then landlords of Kamarpukur. Sri Ramkrishna used to take his education from the Pathshalas of Lahas.
Beside the Laha Babu's Pathshala, there is a RashMancha and also one old mango grove that celebrates the holy festival of Ras Purnima each year.
Sri Ramkrishna often visited the Vishnu mandir of the Laha's. He proclaimed the divinity that exists among every human being. His spiritual perception made him a "Mahapurush".
Previously, Kamarpukur was a village surrounded by lush green paddy fields.
Till now the monks, devotees, and the management have put their best efforts to refurbish the tanks, ponds, straw huts and so that Kamarpukur bears the old golden glory.
The Mahaprasad distribution in Kamarpukur starts at 11:30 am.
500 people can sit at a time in a big hall to have the Maha Bhog. The Kamarpukur temple opens at 8:30 am and closes at 12 pm noon. The area is surrounded by tranquility and serenity.
There is Ramkrishna Math Yatri Nivas for the visitors to stay.
The marble statue of Sri Ram Krishna was instated in the year 1951 in the ancestral temple-house.
Gadadhar was a blessing not only to the hamlet but to the whole world, blessing mankind. It is he who enlightened the minds of folks to forget the distinction between human races and caste and reunite the souls.
The other tourist attractions here are Garh Mandoron and Shiv sajia Mandir.
Many devotees including us feel very delighted to visit these two holy places in the state of West Bengal.
They often touch the soil of these holy birthplaces to obtain blessings from Ramkrishna and Saradamani.
We completed our tour of Kamarpukur within 2:30 PM and headed back home.
However, after completing your tour, you can also go visit Bishnupur, also known as the City of Temples.
---
Love food? Click here to check out my food blogs!
For any enquiry mail me at [email protected]
Connect with me for more:
Instagram(Lifestyle): @itsswarnab
Instagram(Food): @thebongtastes
Instagram(Travel): @thebongclicks
Zomato: @rajswarnab
All the images used in the blog are Copyright work of Swarnab Dutta and should not be used without permission.
Discover Other Religious Places to Visit
---
---