Beguni is one of the most popular snacks that are relished by all the bongs out there. This deep-fried fritter is consumed in every season but is adored especially during the monsoon times. It is a beautiful combination of soft and crispy textures together with a bit oily and savory note.
In one word it is delicious. You will get it from any roadside vendor selling Tele-Bhaja. The salt-garnished goodness gives out a different fragrance when wrapped in a newspaper. The lingering aroma of the snack attracts the office returns, students, workers, and all the other people towards itself. Stand by the street full of people and lights and gobble some with tea. You might also pack a few for the ones at home. The feeling of this is outstanding.
ADVERTISEMENT
This one dish can create so many memories for you, yet is the simplest one to make. With just a few ingredients you can make this at home and have it during the times when you don't feel like going out.
Let us go through the list of ingredients and look at the process of making it.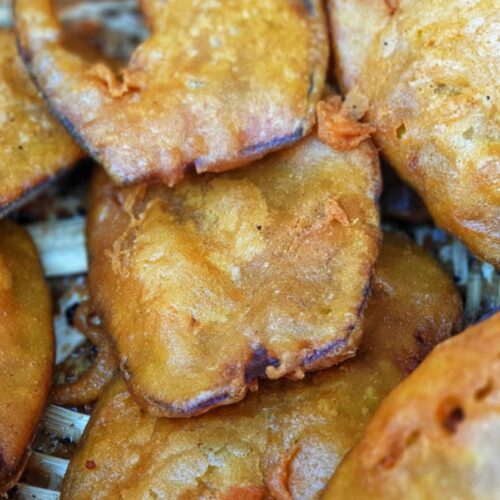 Beguni Recipe (Bengali-Style)
Recipe to make tasty and crispy Beguni easily. Simple ingredients, instructions, and equipment to prepare delicious Bengali-style batter fried Brinjals at home.
Equipment
1 Induction Cooktop

1 Kadhai
Ingredients
1

Brinjal

Begun or eggplant

½

cup

Besan

or Gram flour

2

tbsp

Rice flour

½

tsp

Turmeric powder

1

tsp

Red Chili powder

Salt

to taste

Sugar

to taste

Vegetable oil

for deep frying

Black salt

Chat masala

optional

Water
Instructions
Prepare the batter
First start by making the batter. For that, take a large mixing bowl and in that sift the gram flour.

Next, add the rice flour, turmeric powder, red chili powder, salt to taste, and a bit of sugar (to enhance the taste).

Add the water in batches. Whisk the mixture of dry ingredients along with the water until you get a lump-free and smooth batter. The consistency should not be too runny and should have a certain thickness.
Prepare the Begun
Next, wash the begun/brinjal and start slicing it. Cut them into 3-4 mm thick slices and make sure to cut them even. This will enable better cooking.

Now, marinate the slices with a bit of salt and sugar. Keep them aside for some time. The brinjal slices will leave the excess moisture.

Take the slices on a flat dry plate and pat them dry with the help of a kitchen tissue or paper towel. This will take away all the excess moisture that is on the brinjal.
Fry the Begun
Next, take a kadhai or a deep frying pan. Heat a generous amount of vegetable oil until it starts to smoke lightly.

When the oil is heated well, dip a slice of brinjal into the already-made batter.

Remove the excess batter by shaking it lightly and then lower it into the oil. Fry them in batches.

Deep fry them from both sides until they turn golden brown. Keep the flame on medium while frying.

Next, take them out from the oil and place them on a paper towel. This will soak away the excess oil.

Garnish the Begunis by sprinkling some black salt on them along with a bit of chat masala (optional).
ADVERTISEMENT
Alright, so the yummy tasty begunis are ready to be munched on and gobbled. Serve it with Khichuri and Aloo Bhaja, or Muri (puffed rice) together with some green chilis, and Kancha Payaj (raw onions), or you can even have it with hot tea or coffee.
This is a snack that can be enjoyed at any time of the day. Make and share it when any friend or guest visits your place and they will be delighted to have something so delectable. Enjoy!
---
Disclaimer: The image used is for representative purposes only.
Affiliate Disclaimer: Some of the links provided in the recipe are affiliate links. This means when you buy anything using those links, you help support this website at no extra cost.
Find more Recipes
---
---