Potol (Parwal), also known as pointed gourd, is one of the veggies that is loved by almost all the Bongs. The diverse food culture of Bengal is not only about fish and other non-veg dishes. Several delectable vegetarian dishes come on the plate when it comes to food, for us.
We Bengalis admire our food in all aspects. When the season of potol comes you will get it in almost every bazaar. This veggie can be made out into anything, be it Potol Bhaja, Potol er Dorma, etc. You will even get various kinds of recipes with Potol in any authentic Bengali restaurant.
ADVERTISEMENT
Talking about recipes, in this article we will see how to make Aloo Potoler Dalna. The juicy savory spicy dish will win you over and is extremely light to consume. That being said, let us see what are the simple ingredients and the steps to reach a great result.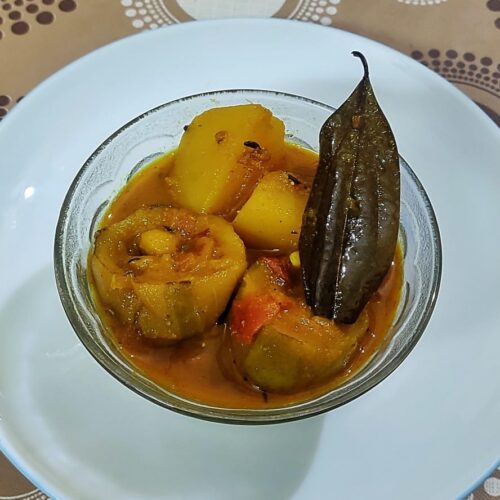 Potol Aloo Dalna Recipe (Bengali-Style)
Easy recipe to make delicious Potol Dalna at home. Simple ingredients, instructions, and equipment to cook Bengali-style Potol Aloo Dalna quickly.
Equipment
1 Induction Cooktop

1 Kadhai
Ingredients
5

Potol

parwal/pointed Guard

3

Potatoes

medium

Mustard oil

3

tsp

Turmeric Powder

Salt

to taste

2-3

Clove

2

Green Cardamon

1

inch

Cinnamon

2

Bay Leaves

1

tsp

Cumin seeds

3

Green Chilis

1

tsp

Ginger paste

1

Tomato

large

1

tbsp

Coriander powder

½

tbsp

Cumin powder

1

tsp

Kashmiri red chili powder

for color

½

cup

Water

½ – 1

tsp

Sugar

1

tsp

Ghee

1

tbsp

Coriander leaves

chopped
Instructions
Prepare the ingredients
First, wash all the potatoes and pointed gourds well.

Next, peel the potatoes and cut them into cubes.

For the potol, you can just scrape the skin with a knife. Then cut them into two to three pieces depending on the size of the veggie.

If you like the seeds then no need to remove them, otherwise scrape out all the seeds and pith. For the matured seeds you might opt for removing them.

Now, transfer them to a bowl and marinate with some salt and turmeric powder. This is done to uplift the taste.

Mix well and keep them aside for some time.
Prepare the masala
Now, when the veggies are getting rested, make a Bengali-style garam masala.

In a pan dry roast, the cardamon, cinnamon, and cloves.

Roast them until you get the aromas from the aromatics and then let them cool down for a bit.

Put them into a grinder and grind them into a fine powder. It is even better if you have a sil batta or mortar and pestle. This enhances the flavor of the dish.

Next, dice the tomato finely.

Keep all of the powder aside and start the cooking.
Prepare the gravy
In a kadhai take some mustard oil. Heat it until it starts smoking and then put it in the potol/pointed gourd.

Keep the flame low and fry them for about 5 minutes. you can cover and stir them occasionally. This cooks the potol faster.

Check the veggie. If it feels soft enough take it out of the kadhai and set aside. Do not overcook the veggies.

Now in the left-over oil, put in the cubed potatoes and stir well. You can put some oil if needed.

Add in some salt and turmeric powder and fry them until golden brown. Check if they have softened and then remove them from the flame and keep them aside.

Now again in the left-over oil, put in the bay leaves, and cumin seeds.

Give them a stir and fry until they start to crackle.

To this, add in the tomato finely chopped tomatoes and sauté them for about 3 minutes.

When the tomatoes soften, add in the green chilis and ginger paste.

Combine them well and sauté on a medium heat. You will notice that the tomatoes will start to blend in well.

To this, add the cumin powder, coriander powder, Kashmiri red chili powder, salt, and some turmeric powder.

Stir and fry them for around 5 minutes. the oil will separate from the spice mix.

Then, add in the water and mix. Let it simmer for 2 minutes.
Add the Aloo and Potol
Put in the fried aloo and potol and immerse them into the already cooking gravy.

Next, put the sugar and check the salt. If needed add some more and combine everything well.
Prepare the Potol Aloo Dalna
Now, cover the kadhai with a lid and let it cook on medium-low heat for 5-7 minutes.

You might add a splash of water if the gravy looks dry.

Shimmer till the gravy comes to a desired consistency.

Now, once you are satisfied with the dalna, garnish it with chopped coriander, the already prepared garam masala, and ghee.

Before taking it out of the flame, give a final mix.

Transfer it to a bowl and keep it covered for 5 minutes. Let all the flavours infuse and then it is ready to be served.
ADVERTISEMENT
Your Aloo Potoler Dalna is ready. Serve it with roti, steamed rice, parantha, or Luchi, and relish a hearty meal.
This can be made on any occasion especially during the pujas when you have to prepare something vegetarian. It is delicious and has been cooked through generations. Enjoy with all your loved ones.
Bon appétit!
---
Affiliate Disclaimer: Some of the links provided in the recipe are affiliate links. This means when you buy anything using those links, you help support this website at no extra cost.
Find more Recipes
---
---