Potoler Dorma or Dolma Potol is a very tasty dish made with a pointed gourd (Potol), split Bengal gram dal, coconut, peanuts, and raisins. 
This Potol is filled with a delicious and spicy Bengal gram paste (a major ingredient) and then cooked in spicy gravy.
ADVERTISEMENT
Potol stuffing can be of many kinds, sometimes made with gram dal, and cheese or sometimes with Bhetki and shrimp.
However, I have prepared the whole recipe here using a vegetarian approach (without onion or garlic) i.e. by using gram pulses.
So let's see how to make Potol-er Dorma easily at home.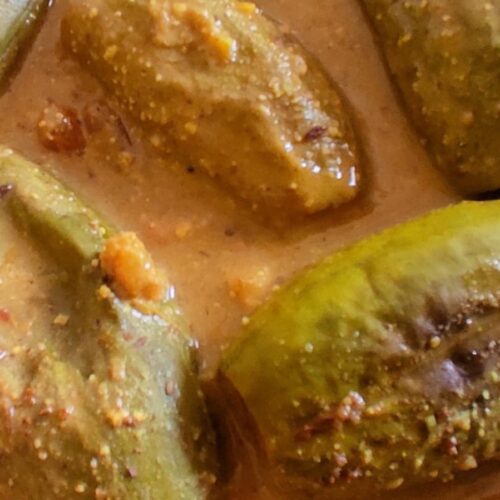 Potoler Dorma Recipe Bengali Style
Recipe to make tasty Potoler Dorma easily at home. Simple ingredients, instructions, and equipment to prepare delicious Bengali-style Potol Dolma.
Equipment
1 Induction Cooktop

1 Kadhai

1 Mixer Grinder
Ingredients
500

g

Pointed Gourd

7-8 Potols

Salt

20

g

mustard oil
For Stuffing
100

g

Bengal gram pulses

Bengal gram

6

g

coconut

25

g

mustard oil

10

g

raisins

8

g

peanuts

1/4

tsp

whole cumin

1/4

tsp

asafoetida

hing

6

g

ginger paste

15

g

grated coconut

4

g

salt

14

g

sugar
For Gravy
25

g

mustard oil

2

pcs

dried red chillies

2

pcs

bay leaves

2

pcs

cardamom

1

pcs

cinnamon

2

pcs

cloves

1

tsp

cumin

4-5

potatoes

10

g

cumin powder

3

g

coriander powder

2

g

turmeric powder

2

g

red chilli powder

2

g

Kashmiri red chilli powder

15

g

almonds

soaked

5

g

cashew nuts

soaked

25

g

yogurt

200

ml

hot water

1/2

tsp

shahi garam masala powder

1

tbsp

ghee
Instructions
Preparation
First, soak the bengal gram pulses for 2 hours. Scrape the gritty outer layer of the gourd using a spoon or knife.

Cut off the edges about 2 cm from the tip of the potol.

Keep these edges carefully, as it will be used later.

Using the handle of a spoon, take out the inner flesh and seeds inside the potol.

Season the Potol (pointed gourd) well with 4 grams of salt.
Fry the Potol
Heat mustard oil in a pan.

Fry potol on high flame, until it turns golden brown.

Then put the fried potols aside.

Fry the chopped parts of the potol and when it turns golden, and set it aside.
Grind the Gram Dal
Put the soaked gram dal in the grinder.

To keep the coarse texture, you have to grind it for a span of a few seconds.
Fry the coconuts and Bengal gram
Now heat some mustard oil in a pan.

Fry the finely sliced coconuts till it turns golden. Set it aside.

Then add the peanuts. Fry until it's golden. Set it aside.

Now add whole cumin seeds and asafoetida in the same oil.

Wait until these ingredients splutter and release a strong aroma.

Add ginger paste and raw Bengal gram paste. Fry on medium heat for 20 -30 seconds.

Add the grated coconut. Fry until it turns golden.
Prepare the stuffing
Stir everything together and mix well.

Add salt and sugar accordingly.

Then add chopped raisins, fried coconut and peanuts.

Then add gram dal paste.

Stir well to remove the raw odor.

Continue scraping through the bottom of the pan with a fork until the mixture dries up.

Spread the gram flour mixture on a plate to cool.
Fill the stuffing
Now, fill the stuffing of the potol with this prepared gram flour mixture in ample quantities.

When the stuffing is done, cover the Potol with a small fried piece of Potol cap(chopped off Potol edges) with a wooden toothpick.
Prepare the Gravy
Soak almonds and walnuts in warm water for 15 minutes. Drain and grind into a smooth paste.

Peel 2-3 potatoes, and cut each of them into 4 pieces.

Heat the mustard oil in a pan.

Add potatoes, cover them, and fry for 5 minutes on medium heat. Stir occasionally. Season it with turmeric and salt. When golden, set it aside.

In the same oil, add whole dry red chillies, bay leaves, cardamom, cinnamon, cloves and whole cumin and allow it to splutter.

In a small bowl, prepare the spice paste.

To make the spice paste, take cumin powder, coriander powder, turmeric powder, red Chilli powder, and Kashmiri red chili powder (ingredients to be taken according to the quantities given)

Stir these with hot water.

Put all these spices in a pan on a high flame.

Stir in all the spices, add a little water if the spices dry up.

Now Add ginger paste.

Stir everything well until the added masala gives a smooth texture.

After the oil is released add salt and sugar to taste.

Now add the curd, cashew nuts, and almond paste.

Stir everything well.

Once the spices are well cooked and the raw odor is gone, add a little hot water to make the gravy.
Prepare Potoler Dorma
After the gravy starts to boil, add stuffed patal and potatoes.

Cover and cook over low heat until potatoes and potols are cooked thoroughly.

After 15-20 minutes, add ghee and Shahi garam masala to make it more flavourful.

Delicious Potol Dorma is prepared!
You can eat this delicious vegetarian dish with Basanti pulao, or paratha.
---
Affiliate Disclaimer: Some of the links provided in the recipe are affiliate links. This means when you buy anything using those links, you help support this website at no extra cost.
Find more Recipes
---
---