We have eaten a lot of common Fuchka with Alu or Matar stuffings and tamarind water.
But trying something different street food will satisfy your taste buds too.
ADVERTISEMENT
Fuchkas can be served in a whole different form. This unique and tasty dish is known as "Dahi Phuchka, or simply Doi Fuchka".
It is a popular Kolkata street food.
Like Fuchkas, this street food is also mouth-watering and fantastic in taste.
It can be simply prepared with a few ingredients.
So let's see how to make Dahi Fuchka at home easily…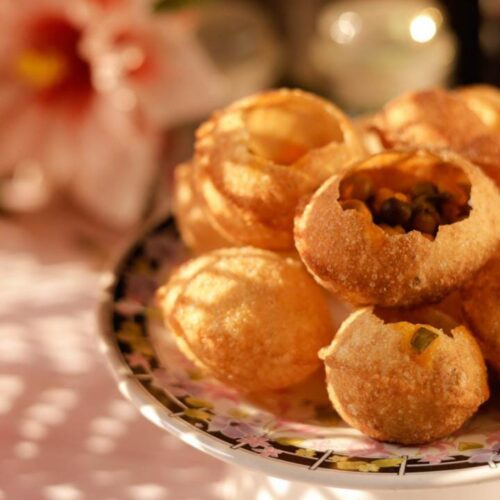 Doi Fuchka Recipe (Kolkata Style Dahi Phuchka)
Recipe to make tasty Doi Fuchkas easily at home. Simple ingredients, instructions, and equipment to prepare Bengali-style Dahi Puri easily.
Ingredients
For Doi Fuchka
1

cup

of semolina

¾

cup

Wheat Flour

¼

cup

Flour

¼

tsp

Baking soda

500

grams

Refined oil

4

medium-sized potatoes

50

grams

Chickpeas

25

grams

Whole peas

coriander leaves

mint leaves

rock salt

Saindhava salt

1

tsp

of roasted spices

cumin, coriander, and dry chili powder

¼

tsp

Black pepper powder

¼

tsp

Chilli powder

¼

tsp

Coriander powder

Lime juice

gondhoraj lemon

Ripe tamarind

without seeds

200

grams

Sour yogurt

2

tsp

Chaat masala

100

grams

Fried sev
For meetha chutney
½

cup

jaggery crushed

⅓

cup

tamarind

1

tsp

red chili powder

1

tsp

jeera powder

salt to taste

½

cups

water
Instructions
Prepare the Fuchka
Firstly take semolina, 1/4 teaspoon of baking soda, and salt in a large bowl and mix them well.

Now add wheat flour and flour to that mixture.

Mix all these ingredients well and add 3 spoonfuls of water to it.

When the semolina absorbs all the water, then again add another 2 spoons of water.

Knead the semolina and flour well.

This kneading is very important for making fuchka. You must see that the dough you prepared has a bit of elasticity and is neither too hard nor too soft.

Now cut the kneaded dough into small pieces and roll it into a round shape, now wet cotton cloth and place it over the dough balls.

Now pour refined oil into a pan and When the oil is fuming hot, fry the dough balls (fuchkas).

If you reduce the flame of the gas and fry it, the puffed balls will be more crunchy and perfect in shape.
Prepare the filling
Now in another bowl take 4 potatoes boiled and unpeeled and add 4 big spoons of boiled chickpeas.

Now add 3 spoons whole grams (chhola) 2 big spoons of tamarind pulp, 3 big spoons of chopped coriander leaves, chopped green chilies as per taste, salt as much needed.

Add 3 teaspoons of roasted cumin powder.

Mix 2 teaspoons of chaat masala with boiled potatoes and knead it well by hand.

Sprinkle a little bit of rock salt or beet salt from the top to adjust the taste.
Prepare the curd
Beat the curd with a bit of salt and sugar and mix it with chaat masala.
Prepare the Meetha Chutney
Immerse and soak a lump of tamarind in the water.

2-3 grams of tamarind pulp will be enough.

Now crush the jaggery, combine it with 1/4 cup of hot water, and well-mash it with a ladle to facilitate easy dissolution.

Add tamarind pulp and jaggery water to a pan, and add red chili powder, jeera powder, and salt to it.

Boil the mixture for about 10 minutes, or until it begins to thicken.

You can even add all the ingredients together and start boiling

Look at the consistency; it needs to be thick and just a little sticky.

Turn off the gas at this point and strain using a metal strainer.

Cool the meetha chutney.

You can refrigerate and preserve it to eat with other snacks.
Prepare the Doi Fuchka
Fuchka and other accessories are ready, now it's time to serve.

Crack open the top of the fried fuchkas on a plate.

Add one spoon of curd mixture over each puffball.

Now add sufficient meetha chutney.

Garnish it with fried sev and chopped coriander leaves and serve.
ADVERTISEMENT
This quick and tasty snack is sure to win everyone's hearts.
Needless to say, I personally love to have both Tok Jol Fuchka and Doi Fuchka when I go out without bothering much about calories.
---
Affiliate Disclaimer: Some of the links provided in the recipe are affiliate links. This means when you buy anything using those links, you help support this website at no extra cost.
Find more Recipes
---
---