Being one of the most beloved snacks of all the Bengalis, Kolkata Fuchka is now known by people across the country. Its incredible texture, flavor profile, and taste give it a unique character.
The crunchy puri, the spicy mashed potato filling along with the tangy tamarind water make the mouth drool for more.
ADVERTISEMENT
Among all the different types of Fuckha, it is the most basic one. If you visit any city or town in West Bengal, you will get to savor a plate or two from the roadside stalls. All of it will be an outstanding experience.
However, if you are staying outside and yearning for it, do not worry, this recipe will help you to make it at home. The same flavors but made in your kitchen. Prepare it in no time, eat it, and share it with all.
Let us see the list of ingredients and the process of making it.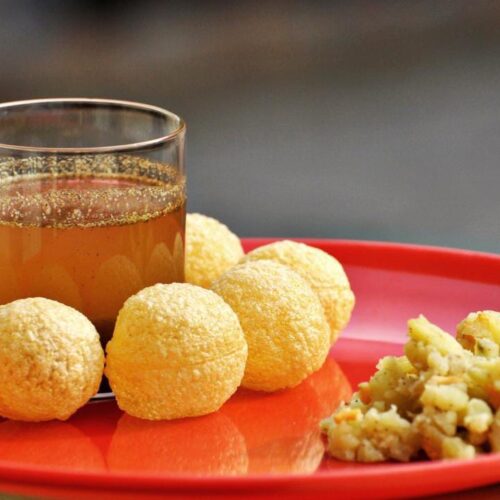 Crispy Fuchka Recipe (Easy to make)
Recipe to make Crispy Fuchkas easily at home. Simple ingredients, instructions, and equipment to prepare Bengali-style Pani Puri easily.
Equipment
1 Kadhai

1 Induction Cooktop

1 Mixer Grinder
Ingredients
For the Crunchy Puri
1

cup

Semolina

or Suji

2

tbsp

All-Purpose Flour

or Maida

2

pinch

Baking Soda

Water

as required

Salt to taste

Oil
For the Potato stuffing
3

Potatoes

large

1

Onion

large

4

Green Chilis

½

cup

White/Yellow Peas

½

cup

Coriander leaves

chopped

1½

tsp

Coriander powder

1

tsp

Cumin powder

1

tsp

Fennel powder

1½

tsp

Chaat Powder

or according to taste

Black Salt

to taste

½

cup

Tamarind water
For the tangy Fuchka Water
½

cup

Tamarind pulp

½

cup

Mint leaves

chopped

½

cup

Coriander leaves

chopped

4

Green Chili paste

or according to heat tolerance

1

Lime

Black Salt

to taste

2

tsp

Chaat Masala

1

tsp

Cumin powder

1

tsp

Fennel powder

1

tsp

Coriander powder

1

tsp

Red Chili powder

Salt

to taste

3

cups

water

or according to the amount of tamarind pulp
Instructions
Prepare the Fuchka Dough
In a large mixing bowl, add the semolina (or suji), all-purpose flour, baking soda, and salt to taste.

Combine all of them nicely and then add the required amount of water to make it into a nice smooth and soft dough.

Knead the dough for about 10 minutes. Then cover it with a wet towel or cloth and keep it aside.
Prepare the Tangy Tamarind water
While the dough is resting, make the tamarind water. For that, take the tamarind pulp in a large bowl.

To this add the water, lime juice, black salt to taste, salt to taste, fennel seed powder, cumin powder, coriander powder, chaat masala, red chili powder, mint leaves, coriander leaves, and the green chili paste.

Nicely mix all the ingredients and take a taste test. Add or adjust the spices according to your taste.

If it tastes fine, then keep it aside. Let all the flavors combine with each other.
Prepare the stuffing
Take a boiling pot or a pressure cooker and put the potatoes to boil.

In the meantime, chop the onions, and green chilis.

Slightly mash the white or yellow peas (boiled).

Next, when the potatoes are cooked to perfection, take them off the flame and let them cool completely.

Peel the potatoes when cold.

Transfer them into a large mixing bowl and mash them. It is okay to have a few lumps as this will increase the texture.

To the mashed potatoes, add cumin powder, coriander powder, fennel seed powder, chaat masala, salt to taste, black salt to taste, and the already prepared tamarind water.

Mix them well and then add in the chopped onion, green chilis, coriander leaves, and the white or yellow peas (slightly mashed).

Combine all the ingredients nicely and take a taste test. Add if anything is needed.
Prepare the Puris
After the dough has rested well, knead it for 3 minutes more.

Divide the dough into equal portions of chapati balls.

Place one chapati ball on the rolling board and roll it out into a chapati. The chapati should be thin (not too much). Make sure not to tear it.

Next, cut them into small disks with the help of a small bowl or a cookie cutter.

Repeat this with all the other chapati balls.

When all are done, cover them with a wet cloth.
Fry the puris
Now, take a deep-frying pan and pour a generous amount of oil.

Heat the oil on medium flame.

When it is perfectly hot, turn the flame to medium-high.

Gently slide the puris into the oil one by one. They will start to puff up.

Fry them until golden from all sides. Make sure not to burn them.

Fry them in batches so that all of them puff up well.

Once done, transfer them onto a kitchen tissue-covered plate or bowl. This will soak off the excess oil.
Serve the Fuchka
Take one puri at a time and crack a hole in the middle with your thumb.

Arrange them on a plate.

Next, put the spicy potato filling in the puris or fuchkas.

Now, dip the whole fuchka into the spicy and tangy tamarind water.

Scoop up the water and put the entire thing into the mouth.
ADVERTISEMENT
And that is all! Eat as many as you want. Since they are homemade, you don't really need to worry about how many you should have.
Have it as an evening snack with your friends or family by sitting in a circle. In this way, you will be able to enjoy the goodness of the Fuchka as well as the company.
Doi Fuchka is another fabulous street food that can also be made at home easily using curd instead of tamarind water.
Happy Cooking!
---
Affiliate Disclaimer: Some of the links provided in the recipe are affiliate links. This means when you buy anything using those links, you help support this website at no extra cost.
Find more Recipes
---
---