Chicken Tikka Masala is a classic curried preparation that has become a global sensation. This authentic North Indian cuisine is very sumptuous with enticing flavours and textures. The dish is enjoyed by almost all and has taken over not just the country but the world.
The spicy, creamy, and flavorful food item consists of two elements – one is the chicken tikka and the other is the mouthwatering gravy. The smoky grilled bites of chicken with a luxurious creamy sauce create an explosion of flavors in the mouth.
ADVERTISEMENT
You will easily get the dish in any Indian restaurant and once you start eating, it's hard to stop. This specific item has a lot of stories but what we focus on is the scrumptious palates it has. As the dish is easy to eat, it is also very simple to make. Now if you get a craving, you don't have to go out. Just make it at home and the advantage is it will be much healthier and homely, yet authentic.
Let us see what the needed ingredients are and how to make this delicacy.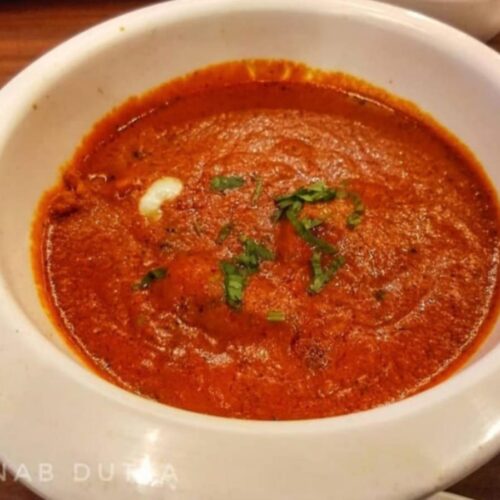 Chicken Tikka Masala Recipe (Restaurant Style)
Recipe for making delicious Chicken Tikka Masala at home. Simple ingredients, instructions, and equipment to cook Restaurant-style Chicken Tikka Gravy easily.
Equipment
1 Kadhai

1 Induction Cooktop
Ingredients
500

g

Chicken Thighs/Breasts

boneless

Vegetable oil

Mustard oil

½

cup

Curd/Yoghurt

2

tsp

Red chili powder

2

tsp

Garam Masala

3

tsp

Coriander Powder

½

tsp

Turmeric powder

½

tsp

Cumin seeds

1 ½

tsp

Cumin powder

Salt to taste

Sugar to taste

1

tbsp

Lemon juice

2

tbsp

Ginger Garlic paste

2

tbsp

Kasuri Methi

1

Onion

large; finely chopped

2-3

Green chilis

chopped

3

Tomatoes

medium; puree

½

cup

Heavy cream

Water

2

tbsp

Coriander leaves

chopped
Instructions
Marinating the Chicken
First, wash the boneless chicken thighs or breasts well.

Next, cut them into 1 ½ inch pieces and put them into a mixing bowl.

Pat them dry with a paper towel or kitchen tissues. Make sure there is no excess moisture on them.

Now to the bowl add in some garam masala, cumin powder, red chili powder, turmeric powder, coriander powder, and salt to taste. The amounts should be to cover all the pieces. Keep the rest aside for the gravy.

Add a tablespoon of lemon juice and a dash of mustard oil. If you don't get lemon, you can use just one squeeze of lime juice.

Next, add in some ginger garlic paste and kasuri methi (dried fenugreek leaves).

Now take the curd or yoghurt and remove any excess water from them. Whisk them until smooth and thick and then put it into the chicken and spice mix.

Mix everything up and marinate the chicken well. Cover it with a lid or cling wrap and let it rest for at least 12-24 hours. This will ensure the chickens' softness and flavor.
Making the Gravy/Masala
For the gravy, take a pot or kadhai and put in some vegetable oil. When the oil starts to smoke, add in the finely chopped onions, Cumin seeds (optional) and some salt.

Sauté them well on medium flame until it turns translucent or deep golden brown. Make sure that are onions are well cooked and mushy.

To this add the chopped green chilis and the left-over ginger garlic paste (1 tbsp). Combine everything and sauté well.

Fry them for around a minute or until the raw smell goes away.

Keep the flame on low and add in the coriander powder, garam masala, red chili powder, and cumin powder.

Suaté them well for a minute or less. Be mindful lot to burn the spices.

add in the tomato puree. Combine all the ingredients and continue to stir.

Keep the heat on medium and stir often until the masala mix thickens. In between take some taste tests and if you feel anything is less, add accordingly.

When the rawness is no more everything seems to come together deliciously, put a cup or two of hot water.

Give them a good mix and cover with a lid. Let them shimmer for some time on low heat. Check in between and wait until the gravy thickens up. Stir occasionally.
Grilling the Chicken to make Tikka
While the masala is simmering, prepare your chicken tikkas. For that, take out the already marinated chicken from the refrigerator.

Thread the chicken onto the bamboo skewers or whatever skewers you have. If you are using bamboo skewers, first soak them in water for 10 minutes.

Preheat the oven for 15 – 20 minutes at 250 ̊C.

Place all the skewers on the grilling tray in the middle rack. Below the grilling tray keep the normal tray covered with aluminium foil. This is to collect the juices that drip from the chicken.

Grill for 10 minutes. Check one side, if you fill like it's done, rotate the skewers to the other with the help of a tong. Let it cook for 10 more minutes.

Next, to give it a charred look, heat an iron pan and put a little oil on it.

Take the chicken tikkas out of the oven and put them in the hot oil.

Keep the flame high and stir them for a few seconds. You will get a nice char on the pieces. Make sure not to burn them. (You can skip this step if you want to).
Making the Chicken Tikka Masala
When the sauce is thickened and cooked well, add the heavy cream to it. Fold everything gently and then put some sugar.

Stir it twice and let it simmer until aromatic.

Now, slowly put in the already prepared chicken tikkas, the extra juice from the chicken tikkas, and a tbsp of kasuri methi.

Stir the creamy gravy and chicken tikkas well and check the salt and sugar.

If satisfied with the balanced flavors, cover with a lid for 3 more minutes or until the chicken is tender and cooked to perfection.

Bring them all together and garnish with two tbsp of heavy cream and chopped coriander. For a better presentation design the heavy cream into a swirl. This will give the dish an authentic look.
ADVERTISEMENT
Ta-daa! You have prepared your own Chicken Tikka Masala.
Serve the dish with jeera rice, steamed rice, butter naan, roti, are any flat bread of our choice. It goes well with almost everything.
Savor the dish and share it with your friends and family. Chill! you will not regret after making this. Enjoy!
---
Affiliate Disclaimer: Some of the links provided in the recipe are affiliate links. This means when you buy anything using those links, you help support this website at no extra cost.
Find more Recipes
---
---