When we hear the term Tadka, it always reminds us of the roadside dhabas that serve such amazing Tadka with either roti or Rumali roti. Now this, in Bengali is called Torka'r dal and is becoming popular nowadays in a lot of households in Bengal.
We sometimes order Tadka from restaurants or buy it while returning from work to enjoy a hearty dinner with it. The creamy Tadka goes so well with parantha or roti and makes the dinner perfect.
ADVERTISEMENT
However, as the outside food is not always healthy, you can make this smoky, luscious Dal Tadka at home with a few ingredients and steps.
The dish turns out to be amazing if the given steps are followed well.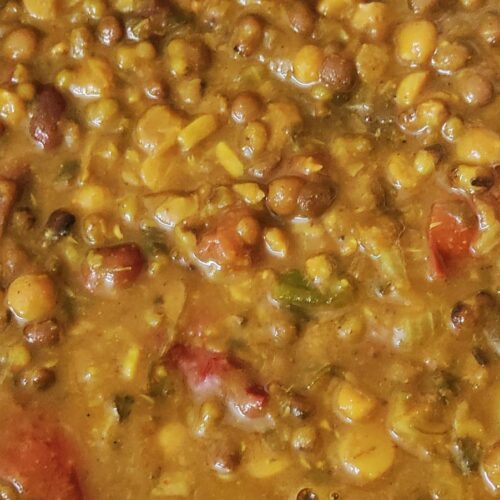 Dal Tadka (Torka) Recipe in Bengali Style
Recipe to make tasty Veg Tadka Dal easily at home. Simple ingredients, instructions, and equipment to prepare Bengali-style Black Dal Torka easily.
Equipment
1 Induction Cooktop

1 Kadhai

1 Pressure Cooker
Ingredients
250

g

Tadka'r Daal

4

tbsp

Mustard oil

1

tbsp

Ghee

or butter

1

tbsp

Ginger

2

pc Onion

1 ½

tbsp

Garlic

2

pc Tomatoes

Salt

to taste

3-4

pc Green chilis

¼

tsp

Rock salt

¼

cup

Coriander leaves

¼

tsp

Coriander powder

¼

tsp

Cumin powder

¼

tsp

Turmeric powder

¼

tsp

Kashmiri red chili powder
Instructions
Soak the Tadka Daal
Soak the Tadka Daal overnight and strain it the next morning.
Prepare the masalas
Combine cumin powder, turmeric powder, red chili powder, and coriander powder (a bit of garam masala if you want) and mix them well to make a spice mix.

Chop the green chilis, ginger, onion, and coriander leave finely and keep aside. The garlic can be chopped roughly and the tomatoes into cubes.
Prepare the gravy
Now take a kadhai and heat some mustard oil and butter or ghee in it.

Heat until you see light fumes and then put in the onions. Fry it until golden and then add the ginger, garlic, and green chilis. Sauté them well.

Next, add your spice mix to the Kadhai and mix all the ingredients well. Keep the heat medium. You can add a bit of water if it feels too dry.

Continue stirring and put in the chopped tomatoes. Sauté all of it well.

To this add some salt and mix it again.

Keep stirring until you see the separation of oil from the spices.
Add the Tadka daal
Now add the soaked and strained tadka daal and coat everything with the spice mix.

Keep the flame on medium and sauté everything for a few minutes.

Next put in 2 cups of warm water and transfer the entire thing into a pressure cooker. (If you are already using cooked lentils then you don't need to pressure cook or that much water).

Cover the pressure cooker and cook for around 10 minutes.
Complete the preparation and garnish
For the finishing touch, heat a pan and heat it well.

Add some oil, onions, green chilis, garlic and tomatoes.

Toss it on very high heat and put in the tadka.

Give it a good stir and put some butter for a smooth fatty texture.
Garnish the Daal Tadka
Garnish it with chopped coriander leaves and again give it a final stir. (if might even add crushed dried kasuri methi).

Serve it hot.
ADVERTISEMENT
Now that your delicious Dal Tadka is ready, serve it with warm Parantha, Naan, roti, or Rumali roti and some salad to enjoy the luxurious flavors.
They are a great carrier of all the delicate flavors and tastes heavenly. This is always a comfort food to relish with friends and family.
---
Affiliate Disclaimer: Some of the links provided in the recipe are affiliate links. This means when you buy anything using those links, you help support this website at no extra cost.
Find more Recipes
---
---