Baranti, a small village in Purulia, is a hidden gem for travel enthusiasts and nature lovers. It is situated beside a scenic lake and is surrounded by hills and forests.
This place has become a popular weekend destination and has added another star to the already long list of amazing places to visit in Purulia. It was once an offbeat destination, but now it is gaining popularity among visitors.
ADVERTISEMENT
Baranti offers a range of activities such as hiking, birdwatching, boating, and camping. This village is also known for its display of Palash flowers (Bastard Teak or Sacred Tree) that bloom in spring and create a carpet of orange and yellow.
In this article, you will get to know the following points about Baranti Purulia,
Let's see each of these points in detail.
How to reach Baranti
| | |
| --- | --- |
| Nearest Railway Station | Muradi |
| Distance from Asansol | 33 kilometers |
| Distance from Kolkata | 230 kilometers |
By Train:
There are a few ways to reach Baranti by train from Kolkata. One option is to take a train from Howrah or Sealdah to Asansol and then take another train from Asansol to Muradi. From Muradi, you can take a car or a rickshaw to Baranti, which is about 6 km away.
Another option is to take a train from Howrah to Adra and then take another train from Adra to Muradi.
ADVERTISEMENT
By Bus:
There is no direct bus service available between Kolkata and Baranti. You can take a South Bengal State Transport Corporation (SBSTC) bus from Kolkata (Esplanade bus terminus or Karunamoyee bus terminus and get down at Asansol. From Asansol, you can take a car or a train to Muradi and then a rickshaw to Baranti, as mentioned in the train route.
By Car:
You can reach Baranti by car from Kolkata by taking the Durgapur Expressway (NH-2), crossing Durgapur City, and reaching Punjabi More. Then take a left turn before Raniganj station and turn right to cross Mejia Bridge. Then turn right for Saltora Raghunathpur Road and after crossing Santuri Police Station, turn right for Baranti village via Tallberia village and Jibanpur village.
The distance between Kolkata and Baranti is about 230 km and it may take around 5 hours.
The natural ambiance of Baranti
Baranti is a place where you can witness the splendor and charm of nature in its purest form. The various resorts situated here provide you with a panoramic view of the verdant hills and the sparkling lake.
ADVERTISEMENT
In July and August, the air is filled with colorful butterflies that flutter around the flowers. If you are adventurous, you can venture into the nearby forests where you can encounter various wild animals such as wolves, wild boars, and deer.
Attractions at Baranti (Sightseeing)
Baranti Hill and the lake are the main attraction of this place.
Baranti Lake
The Baranti Lake is a reservoir formed by the Baranti Dam on the Baranti River. It is also known as Muradi Lake, as it is located near the Muradi village. The lake is scenic and also attracts many birds, butterflies, and animals. It is also a famous spot for fishing, boating, and picnicking.
You can see fishermen in the early morning catching freshwater fish from the lake. The small boats in the backdrop of the rising sun look quite tempting. You can also savor the fresh fish that they catch every day.
The lake also offers a spectacular view of the sunset and the reflection of the Baranti Hill on the water looks mesmerizing. All these features make this place a famous attraction in Purulia.
Baranti Hill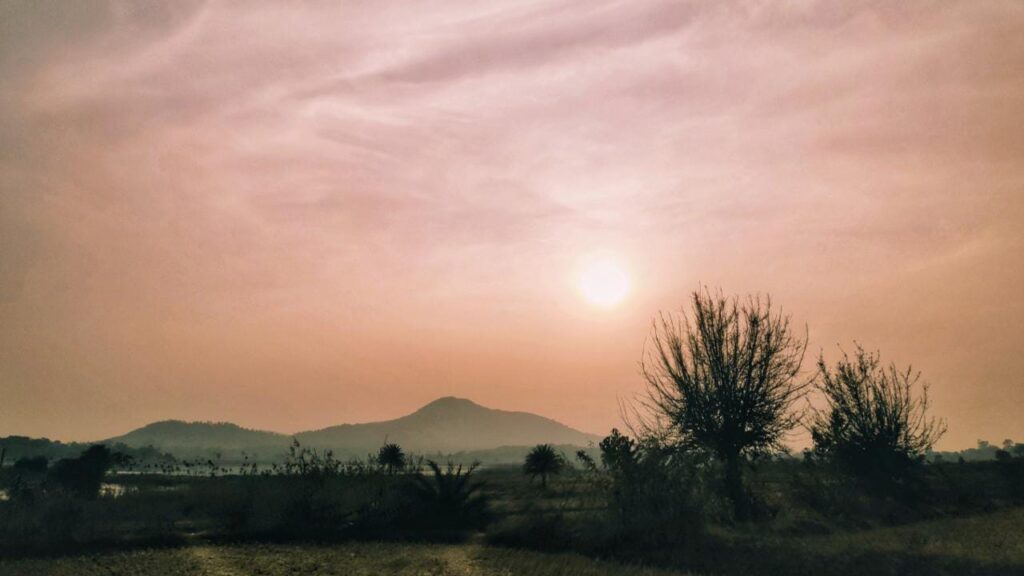 Baranti Hill is a popular destination for nature lovers, hikers, and trekkers who also want to explore the beauty and tranquility of the countryside. It is one of the two small hillocks that surround the scenic village of Baranti.
The hill is covered with lush greenery and attracts many butterflies and birds, making it a paradise for wildlife enthusiasts. It is also a great place for trekking. From the hilltop, you can get a breathtaking view of the dam, the lake, and the rugged landscape that surrounds it.
Things to do in Baranti
Some of the things you can do in Baranti are,
Enjoy a spectacular view of Baranti Hill and the Baranti Dam from your resort.
Watch the 'Majhi Bhai' rowing their boats and catching fish early morning.
Visit the nearby Panchet Dam to soak in the beauty of nature.
Buy the unique Tussar Silk saree from the nearby Raghunathpur villages.
Relax amidst the dense greenery of the surroundings and immerse yourself in pristine nature.
Enjoy adventurous activities like rock climbing and trekking.
ADVERTISEMENT
Best time to visit Baranti
The best time to visit Baranti is from July to February.
During July and August you can experience the chirping of the birds and the place looks prettier with the lush green vegetation drenched in heavy showers. The lake, hills, and dams altogether create a beautiful picturesque view that mesmerizes all.
During the months of November to February, the weather remains quite comforting and nature adorns itself in colorful shades of blossoms.
Places to Stay in Baranti
Baranti offers a range of accommodation options that suit your budget and preferences. Here are some of the best places to stay in Baranti categorized into budget, mid-range, and luxury:
Budget (Upto ₹1500 per night): Ankhaibari Resort, Baranti Lake View Resort
Mid Range (₹1500 – ₹3500 per night): Spangle Wings Resort
Luxury (₹3500-₹6000 per night): Album Ecological Nature Resort, Aronnok Resort
ADVERTISEMENT
These are some of the places to stay in Baranti that can make your trip memorable and enjoyable. You can choose the one that suits your budget, preference, and taste.
(P.S.: The prices are based on information from Travel booking websites and may vary)
Other attractions near Baranti
There are several places near Baranti that you can visit from Baranti. Here is a list of some of them:
| Attraction | Distance from Baranti |
| --- | --- |
| Panchet Dam | 24 kilometers |
| Garhpanchakot | 12 kilometers |
| Joychandi Hill | 30 kilometers |
| Biharinath Hill | 20 kilometers |
These are some points you should know about Baranti. It is one of those very few locations that will forever remain evergreen in the memories of those who witness its beauty.
The natural beauty and scenic views make this place a popular tourist attraction in Purulia. It is also a perfect location for a short break from the hustle and monotony of city life.
---
Some other articles you might like
---
---
Disclaimer: Some of the links provided in the article may contain affiliate links. This means when you book or buy something using these links, you help support the website at no extra cost.
---