Baby potatoes or 'Notun Aloo' are harvested during the winter months. At this time, we think of something comforting and yummy. However, sometimes it becomes very tiring to eat just non-veg, and here, the veg Aloo'r Dum comes as a rescue.
The 'Notun Aloos' are cooked to perfection in a mouth-watering gravy. When served, the fragrance fills up the nostrils and creates a sense of happiness. It has a different version in Indian cuisine.
ADVERTISEMENT
In this recipe, you will get to know how to make the Veg Aloo'r Dum in Bengali style. A plate decorated with "Phulko Luchi", Aloo'r Dum, and Jilapi is always a heart and soul-stirring meal during the cold season. So, to enjoy it all, make it in your kitchen and soak in the joy.
Let us see the ingredient list and the process to make it.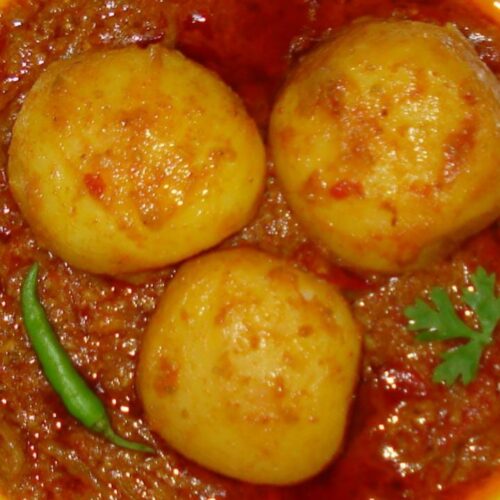 Veg Alur Dom Recipe (Dum Aloo) Bengali Style
Recipe for cooking spicy Alur dom at home. Simple ingredients and instructions to make delicious and tasty Bengali Style Dum Aloo at home.
Equipment
1 Kadhai

1 Induction Cooktop

1 Mixer Grinder

1 Pressure Cooker
Ingredients
450-500

g

Baby Potato

1½

tsp

Ginger paste

1

Tomato

large

4-5

Green Chilis

or according to heat tolerance

2

tbsp

Sour Curd

10

Cashew nuts

½

cup

Green Peas

fresh or frozen; optional

2

Dried Red Chili

3

Cloves

1

Bay leaf

2

Green Cardamom

1

inch

Cinnamon stick

1½-2

tbsp

Cumin seeds

½

tsp

Kashmiri Red Chili powder

½

tsp

Turmeric powder

½

tsp

Aamchur powder

½

tsp

Kasuri Methi

optional

Salt

to taste

Sugar

to taste

¼

tsp

Garam Masala

1

tsp

Ghee

Water

Mustard Oil
Instructions
Boil the Potatoes
First, take a boiling pot and pour a liter of water.

Next, add around 2 tsp of salt and let it come to a boil. By this time wash the baby potatoes (notun aloo).

Next, when the water comes to a boil, put the baby potatoes in it and let it boil until perfection.

Check if the potatoes are cooked by poking it with a fork.

If it is done, drain the water and start peeling the potatoes.

After peeling the potatoes, coat them with some salt and turmeric powder. Cover and keep them aside.
Prepare the ingredients
Now, make a paste of the cumin seeds, ginger, and 3 green chilis using a blender or a sil batta. Using a sil batta enhances the flavors more.

After making a fine paste transfer them in a small bowl and add 2 tbsp of water along with aamchur powder and some salt.

Make a slurry of these ingredients and keep them aside.

Take a blender and make a fine puree of the tomato. Keep it aside.
Prepare the gravy
Now, take a kadhai or a cooking pan and add mustard oil.

Let the oil heat until it smokes a little. Keep the flame on medium.

To this, add the dried red chilis (break them from the middle), bay leaf (tear it from the middle), green cardamom, cloves, cinnamon, and 2 pinch of cumin seeds.

Stir everything well until the aromatics start to release the fragrance.

Now, add the turmeric and Kashmiri red chili powder.

Stir consistently and fry them for 15-20 seconds. This will impart a beautiful color. Be mindful not to burn the spices.

To this, add the spice slurry made before.

Combine and cook until they are a bit brown or the raw smell of the spices is gone.

Now add the tomato puree and combine well.

Stir and fry them until the masala starts to release oil.

While they are getting fried, take a bowl and add the sour curd or yogurt. Add a bit of salt and sugar.

Whisk until the sour curd is smooth and creamy.

Pour this mixture into the masala and combine nicely.

As soon as you pour the curd into the kadhai, immediately start to stir the masala vigorously. This will prevent the curd from splitting.

Stir and cook this for about 5 minutes.
Add the potatoes
Fold everything in gently so the boiled potatoes do not break.

Cook the masala and the potatoes for about 5 minutes. Let all the spicy goodness penetrate the potatoes.

At this point, take a taste test. Next, add salt to taste and sugar to taste.

Stir them nicely.
Add water
Heat 1½ cup of water (you can add more if needed) until it comes to a rolling boil.

Add the water to the kadhai. This will form the creamy gravy.

Mix everything and cover the kadhai.

Let them cook nicely.

In the meantime, grind the cashews into a fine paste. Keep them aside.
Prepare the peas
Take a pan and put in some water.

Blanch the green peas and when done keep them aside.
Prepare Aloor dum
After this, take off the lid and stir again.

Add the ground cashews and crushed Kasuri Methi into the kadhai.

Add some more hot water if needed.

Cover the kadhai again and let everything cook.

Cook them until the gravy becomes semi-thick. Keep the flame on medium.

When the gravy has reached the desired consistency, add in the blanched green peas.

Combine it in. Give it a taste test.

Cook this for a minute and then sprinkle the garam masala.

Stir once again and then transfer it into a bowl.
Garnish
Garnish the Aloo'r Dum with a tsp of Ghee.

Keep it for 2 minutes before serving. This will help in the incorporation of flavors.
ADVERTISEMENT
There you go! The creamy and luxurious Veg Aloo'r Dum is prepared to be relished. Serve it with jeera rice, pulao, paratha, or any bread of choice.
This dish is an excellent choice for any day including the occasions and pujas where you have to eat only veg food. It will not be disappointing and will make you want more.
Happy Cooking!
---
Affiliate Disclaimer: Some of the links provided in the recipe are affiliate links. This means when you buy anything using those links, you help support this website at no extra cost.
Find more Recipes
---
---