Sunday mornings are incomplete without Puri or parathas. What's better than ghee-fried Paratha and aloo dum on holidays?
Who cares about calories when crispy parathas can bring you a smile! Moreover, there is no comparison with aloo Paratha as a Sunday breakfast.
ADVERTISEMENT
Almost everyone loves potato stuffed paratha and pickles.
Aloo paratha is a quick and tasty recipe.
So let's see how to make this potato paratha easily at home.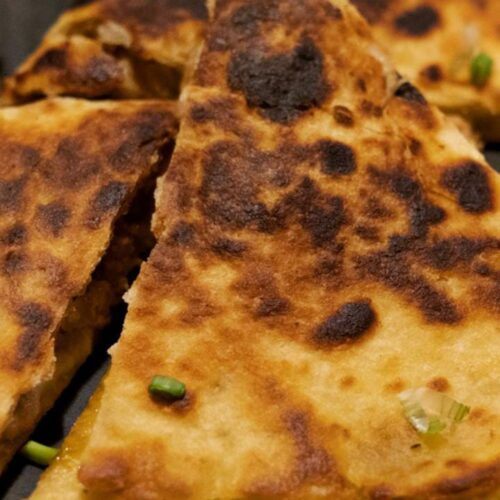 Aloo Paratha Recipe
Recipe for making tasty Aloo Paratha at home. Simple ingredients and instructions to cook delicious Alur Paratha within a few minutes.
Ingredients
4-5

potatoes

500

g

all-purpose flour

Onion

Chopped

ginger

Chopped

garlic

Chopped

green chilies

Chopped

5

g

whole cumin seeds

Amchoor powder

7

g

Turmeric powder

7

g

Red chili powder

Salt

Mustard oil

Refined oil/ghee
Instructions
Make Paratha Dough
To make Aloo Paratha, first, take flour in a bowl and mix a little salt and refined oil in it. I have used all-purpose flour here. All-purpose Flour Paratha (Maida paratha) is more delicious to eat.

Then mix the flour well with little water and knead the flour well to make a dough.

When the dough is smooth, keep it aside wrapping it with a clean cloth.
Prepare potato stuffing
First, you have to heat water in a pan, peel the potatoes well and boil four to five potatoes with a little salt and turmeric. After the potatoes are fully boiled, add little mustard oil to the pan again.

Then add whole cumin seeds, finely chopped onion, finely chopped ginger and garlic, and green chillies.

Then add boiled potatoes and add salt and sugar accordingly.

Smash the potatoes well.

Add turmeric, chilli powder, Amchoor powder and black pepper powder.

Then add chopped coriander leaves.

Mix all the spices well with the potato stuffing.

Make sure that the mashed potato blends smoothly with the spices, otherwise, the potato stuffing may come out later while preparing the paratha.
Prepare Aloo paratha
Cut the small dough from the large flour dough and roll them into a small paratha.

Then fill the paratha with a little potato stuffing.

Fold the stuffed paratha.

Make sure that the potato stuffing does not come out.

Then gently roll the paratha into a bigger paratha.

Now heat an iron Tawa.

Place the paratha in the centre of Tawa.

Now after the Tawa gets heated up, add refined oil or ghee on both sides of the paratha.

The delicious aloo paratha is made by frying the paratha from both sides.

Your Aloo paratha is now ready to be served.
ADVERTISEMENT
The aloo paratha is very tasty to eat and everyone, from children to adults loves this aloo paratha snack.
You can make this paratha using dal-stuffing too.
---
Affiliate Disclaimer: Some of the links provided in the recipe are affiliate links. This means when you buy anything using those links, you help support this website at no extra cost.
Find more Recipes
---
---