The popularity of Taal or Sugar Palm has been for a long time among Bengalis and almost everyone in rural West Bengal.
Every Bengali household knows more or less how to make various recipes with this Taal, like Tal Bora, Tal Kheer or custard, Tal Luchi, pancakes, and many more.
But today you will get to know how to make Tal Bora easily at home.
ADVERTISEMENT
Taler Bora and other recipes made out of Taal are not only flavorsome recipes but this fruit is packed with essential vitamins and minerals.
Tal has many beneficial properties. It is a very beneficial fruit for the liver.
Taler bora is specially made on Janmashtami and traditionally it is served as the main prasad to Gopal or Lord Krishna.
So come let us see how to make Sugar Palm Fritters or the renowned Taaler Bora.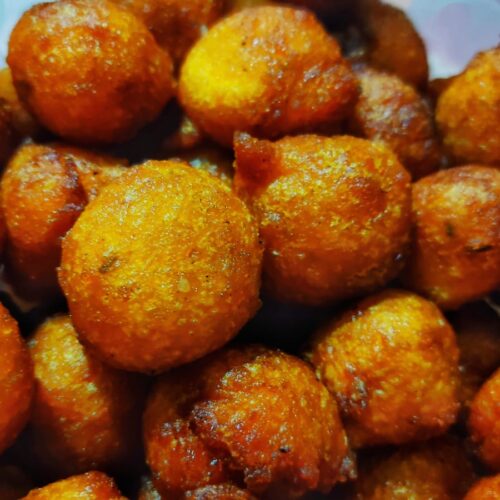 Taler Bora Recipe (Home made Sugar Palm Fritters Recipe)
Recipe to make delicious Taler Bora at home. Simple ingredients, instructions, and equipment to prepare Bengali-style Sugar Palm Fritters easily.
Equipment
1 Induction Cooktop

1 Kadhai
Ingredients
3

cups

sugar palm pulp

1

cup

coconut

grated

½

cup

Atap rice powder

½

cup

Boiled rice powder

3

cups

All-purpose Flour

200

grams

sugarcane jaggery

100

grams

Sugar

½

tsp

Baking powder

¼

tsp

Salt

500

grams

Mustard oil
Instructions
To make the sugar palm or tal bora, take a corrugated steel vessel (the vessel in which boiled rice, chowmein, or pasta is strained ) and place it upright on the heavy aluminum vessel.

In a separate bowl, grind the palm kernels by sprinkling water.

Repeatedly sprinkle water and knead the whole kernel to extract the maximum pulp out of the sugar palms.

Mix 3 cups of pulp, grated coconut, molasses (jaggery), sugar, and a little salt and put it on low heat.

Keep it stirring for at least 10 minutes.

Now when the cooked palm is cooled, mix flour, two types of rice powder, and baking powder and knead it well.

If the batter seems stiff, you can mix milk kept at normal temperature to soften it.

Keep the mixture covered for 10 minutes.

Put the pan on the gas and heat the mustard oil.

When the oil is fuming hot, whisk the mixture once more and make small balls out of it and release it into the oil.

Fry on medium flame until the fritters or balls they turn dark golden in color.

Again in the next batch, increase the flame of the gas and leave the balls for a while.

Now reduce the heat, and fry it in the same way.

If fried in this way, the bora will be fried properly with perfect crispiness and there is no chance of getting burnt or over-fried.

And your sugar palm fritters will be perfect.

Strain Taler Bora from Oil and allow the excess oil to soak using newspaper or tissue paper or a kitchen towel.

Taler Bora tastes wonderful when served hot.

You can prefer to serve Taler Bora at room temperature too instead of serving hot.
ADVERTISEMENT
This is how you can easily make Taaler Bora at home.
We Bengalis prefer to eat it 'Bashi' (or one day later), after preserving it in a container.
Undoubtedly, it tastes better if served after one day of its preparation.
---
Affiliate Disclaimer: Some of the links provided in the recipe are affiliate links. This means when you buy anything using those links, you help support this website at no extra cost.
Find more Recipes
---
---