The popularity of Taal or Sugar Palm has been for a long time among Bengalis and almost everyone in rural West Bengal. Almost every Bengali household knows more or less how to make various recipes with this Taal, like Tal Bora, Tal Kheer or custard, Tal Luchi, pancakes, and many more.
But today you will get to know how to make Tal Bora easily at home.
ADVERTISEMENT
Taler Bora and other recipes made out of Taal are not only flavorsome recipes but this fruit is packed with essential vitamins and minerals. This fruit has many beneficial properties. It is a very beneficial fruit for the liver.
The Taler Bora is specially made on Janmashtami and traditionally it is served as the main prasad to Gopal or Lord Krishna. I remember waiting for the taler bora as Prashad after the Janmashtami puja. The entire process from making it to eating is very exciting. It is worth investing the time into this recipe.
Let us see the list of ingredients and the process to make the dish.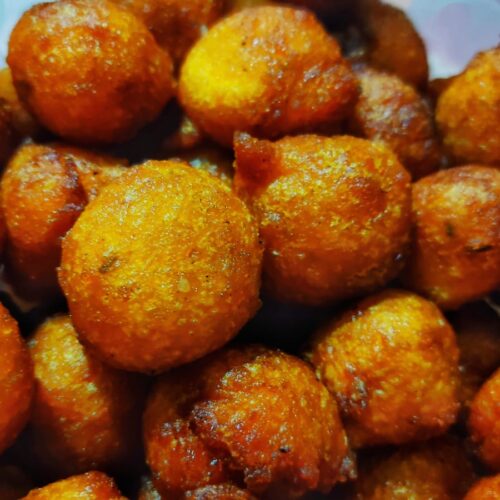 Taler Bora Recipe (Home made Sugar Palm Fritters Recipe)
Recipe to make delicious Taler Bora at home. Simple ingredients, instructions, and equipment to prepare Bengali-style Sugar Palm Fritters easily.
Equipment
1 Induction Cooktop

(optional)

1 Kadhai/Deep-Frying Pan

1 Mixing Bowl
Ingredients
1½

cups

Taler rosh/Sugar Palm pulp

½

cup

Coconut

grated

1

cup

All Purpose Flour

or Maida

½

cup

Chaler Guro

or Rice flour

Jaggery/Gur

to taste

½

tsp

Salt

Vegetable oil
Instructions
Grate the Tal
First, remove the skin of the tal or sugar palm, and then separate all the kernels.

Next, take a grater and start grating the kernels one by one to extract the pulp. Grate them using the bigger side of the grater. In between grating, dip the kernel in water and then grate again. In this way go on repeating the process until all the pulp is extracted.

Collect the pulp in a large mixing bowl. (If the pulp is very watery, then you can boil it for around 5-7 minutes until the excess water gets evaporated).
Prepare the batter
Now, to this add the maida or all-purpose flour, rice flour, salt, grated coconut, and jaggery or gur to taste.

Mix them really well either with your hand, spatula, or a whisk, in a clockwise or anti-clock motion.

Keep on mixing until a smooth and thick consistency is achieved. Make sure that there are no lumps left in the batter.

Take a taste test. Add if anything feels less.

If the batter feels too thick, you can add a dash of milk and mix it with the batter.

Next, cover the bowl for around 10 minutes and let it rest.

After the batter is well-rested, take the lid off and mix it again for a few seconds.
Fry the Taler Bora
Now, take a deep frying pan or kadhai and pour a generous amount of oil.

Let the oil heat until it smokes. keep the flame on medium.

Drop a small dollop of the batter in oil to check the temperature of the oil.

If it starts to float and fry, then start dropping small dollops and fry them until golden brown from all sides. Keep stirring and make sure not to burn them.

Fry them in batches and transfer them onto a kitchen tissue-covered plate. This will soak in the excess oil.

You can prefer to serve Taler Bora at room temperature too instead of serving hot.
ADVERTISEMENT
Voila! The crispy yet gooey Taler Bora is ready to be tossed into the mouth. Serve it hot and savor every bite. We Bengalis prefer to eat it 'Bashi' (or one day later), after preserving it in a container. It tastes equally as good.
You will have to share this luxurious flavoured dish with all your closed ones. Don't worry, they will only praise you for your cooking. Enjoy!
---
Affiliate Disclaimer: Some of the links provided in the recipe are affiliate links. This means when you buy anything using those links, you help support this website at no extra cost.
Find more Recipes
---
---