The most popular and authentic appetizer for Bengalis is Shukto. It is a light, tasty stew made with a variety of vegetables, especially potatoes, bori, bitter gourd, green banana, drumsticks, raw papaya, eggplant, and beans.
Shukto has been associated with 'traditional' occasions and festivals and is in high demand in any Bengali restaurant.
ADVERTISEMENT
This Bengali dish made with mixed vegetables is very popular, especially in the summer season, and eating this is very good for health.
'Shukto' is not the name of a single food, as is commonly believed that Shukto is like a whole vegetable similar to Dalna or Ghanto. It is done in a variety of ways, such as bottle gourd Shukto, cucumber Shukto, or vegetable Shukto.
While having Bengali cuisine, Sukto is eaten at the beginning, sometimes after spinach or fries and before dal.
So let's see how to make Sukto, a special Bengali food, easily at home.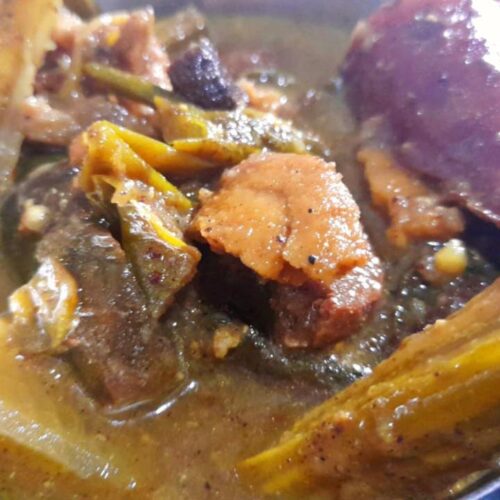 Shukto Recipe (Bengali Style)
Recipe for cooking tasty Shukto in Bengali style. Simple ingredients and instructions to make delicious Bengali appetizer, Shukto at home.
Equipment
1 Kadhai

1 Induction Cooktop

1 Mixer Grinder
Ingredients
2

tbsp

Mustard oil

2

Bay leaf

1

Papaya

medium to small

7-8

Beans

4

Drum sticks

1

Potatoes

medium

2

Green banana

kaanch kola

1

Bringal

eggplant

2

Bitter gaurd

Uchchey

6-7

Bori

dried lentil dumpling

1½

tsp

Sorse-posto paste

mustard seed-poppy seed paste

½

cup

Milk

1

inch

Ginger paste

1

tsp

Panch phoron

1

pinch

Radhuni

Salt

to taste

2

Dried red chili

1

tbsp

Ghee

½-1

cup

Water

½

tsp

Sugar
Instructions
Cut the vegetables
First, wash all the vegies well before starting preparation.

Then, peel the potatoes and papaya. Start to chop the veggies into wedges.

Trim the edges of the beans, remove the strands and cut three pieces of each beans.

Chop the bringal and bitter gourd by cutting off the edges.

Also, peel the drumsticks and cut them into almost equal pieces.
Boil the vegetables
Next, boil the papaya, potatoes, beans, and drumsticks.

In a boiling pot, add salt and the veggies. put in sufficient water to cover all the veggies.

Close the lid of the pot and cook the vegetables on low heat for 15 minutes.

Stir the vegetables occasionally to cook them well.

When done, strain the water immediately to stop the veggies from over cooking.

Save the boiled water for later use.
Fry the vegetables
Rest of the vegetables needs to be fried.

Heat mustard oil in a Kadhai/pan.

Fry the dal Boris till they turn golden.

When it is fried, keep it aside.

Similarly, fry the bitter gourd, kaanch kola and brinjal one by one, until all turn golden brown.

Once fried, remove all the veggies from the oil and set it aside.
Add mustard seed and poppy seed paste
Now add bay leaves, dried red chilis, and panch phoran in the same oil and fry them well.

When you can smell the aroma, add in the ginger paste and fry on low flame for one minute.

Then, add mustard paste and poppy seed paste and stir them well.

If your pan is becoming dry, splash in a little bit of water (you can use previously stored water from the boiled vegetables). Stir well until the oil separates.
Cooking vegetables
Add the boiled potatoes, and cook on low heat for 3 minutes.

Add the rest of the boiled vegetables, including the fried green banana and boris.

Next, add salt and sugar accordingly.

Now, add in the entire the preserved water from the boiled vegetables.

Put in the brinjal and bitter gourd.

Gently mix all the vegetables and keep stirring lightly so that the vegetables do not break.
Add milk
Now, to the already cooking sukto, pour in the milk.

Give everything a light mix.
Prepare Shukto
Let them cook well over low heat until all the vegetables are fully cooked (about 3 to 5 minutes).

To finish, grind Radhuni ( a type of spice) into a powder using a mortar pestle and sprinkle on the Shukto.

Finally, add in the ghee.

Take it out in a big bowl and cover it with a lid for 5 minutes before serving. This is done so that the fragrance of the ghee can get mixed well.

Serve it hot .
ADVERTISEMENT
These foods are rich in vitamins and minerals as well as delicious to eat during summer. This recipe is mostly popular with rice. You can easily make this vegetarian food and enjoy the dish.
---
Affiliate Disclaimer: Some of the links provided in the recipe are affiliate links. This means when you buy anything using those links, you help support this website at no extra cost.
Find more Recipes
---
---