There is a traditionality that winds around Postor Bora. This cuisine is quite famous in almost every Bengali family and is made with lots of love. It has been passed down through generations and continues to satisfy our palate.
Being a Bengali, I have grown up eating Postor bora. When I do not feel like eating anything, this is the one I will make for myself. No spices are involved, but it still stands out the most. Savor it with some 'Gorom Bhaat,' and after that, a sound sleep will make your day.
ADVERTISEMENT
The recipe at each household will differ but the divine taste will only increase. It is also served at authentic Bengali restaurants and always remains in demand. However, peace is when you make yourself. A piece of pleasure will be prepared when you make this.
Let us see what the ingredients are and how to make this easy recipe.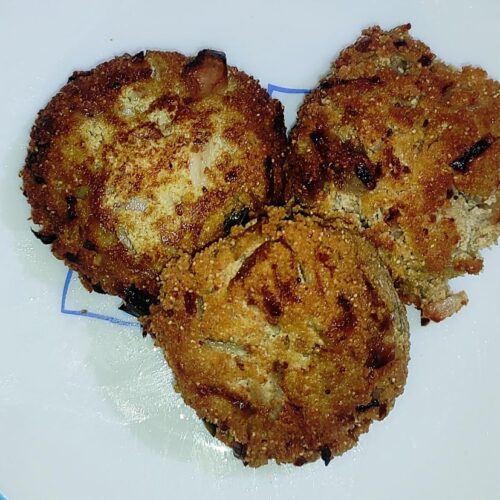 Postor Bora Recipe (Bengali-Style)
Easy recipe to make tasty Postor Bora at home. Simple ingredients, instructions, and equipment to cook Bengali-style Postor Bora quickly.
Equipment
1 Induction Cooktop

1 Kadhai
Ingredients
100

g

Posto

Poppy seeds

4

Green Chilis

or according to heat tolerance

1

Onion

medium

Salt

to taste

Mustard oil

Water
Instructions
Soak the Posto
First, put the posto or poppy seeds in a bowl and soak them in water for around half an hour.

After the posto is soaked, make it into a coarse paste by either using a mortar and pestle or a sil batta. These enhance the taste much more.

You can also use a blender. Make sure to add a little water while blending, around 1½ tbsp spoon.

Keep it in a bowl and set it aside.
Chop the Onions and Chilies
Now, peel and finely chop the onion.

For the green chilis, you can either crush them well in a mortar and pestle or finely chop them.
Add and mix the onion and chilies
Then, add the chopped onions and green chilis to the bowl. Avoid the onions if you do not eat them.

Mix everything well and add some salt.

Mix again until everything comes together. The consistency should be thick and compact.
Prepare the Postor Bora
Divide the mixture into 4 parts. Take each one and shape it into a small disk.

Keep the thickness to medium and press gently between your palms to give it a good shape.
Fry the Postor Bora
In a frying pan or kadhai, add mustard oil. Heat the oil on medium flame.

When the oil is heated well, place them one by one on the oil and fry both sides until they turn golden brown.

Do not press them hard while they are getting fried or else it will break.

After they are fried, transfer them to a kitchen tissue-covered plate. This will soak in the excess oil.
ADVERTISEMENT
There you go. Your yummy crispy and soft Postor Bora is ready to be presented. Serve it with some steamed rice, Musurir Dal, Aloo Bhaja, and a piece of lime. This is a complete combo and a comfort food, especially during the hot summer months.
The meal fills you up while keeping your heart and stomach cool and happy. Share and enjoy together with your family and friends.
Chow down!
---
Affiliate Disclaimer: Some of the links provided in the recipe are affiliate links. This means when you buy anything using those links, you help support this website at no extra cost.
Find more Recipes
---
---