Mochar Ghonto or Banana Blossom curry is a simple dish yet delicious. It is a food item that all the Bengali kids have grown up eating. It comes in all forms, that is it can be made vegetarian or non-vegetarian. Different types of ingredients compile amazingly to create this masterpiece of food.
ADVERTISEMENT
You can eat it with either steamed rice or jeera rice, all works as a good carrier of flavor for the dish. This traditional curry is usually dry and yummy to eat. Not only these, it also has a number of health benefits.
So let's see!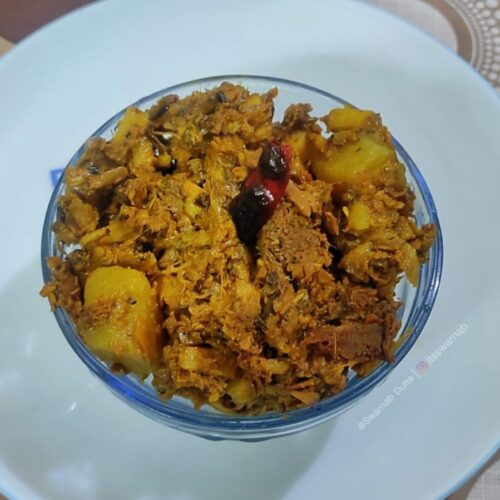 Mochar Ghonto Recipe (Veg, Bengali-Style)
Easy recipe to make Niramish Mochar Ghonto at home. Simple ingredients, instructions, and equipment to cook Bengali-style Veg Banana Blossom quickly.
Equipment
1 Induction Cooktop

1 Kadhai

1 Pressure Cooker
Ingredients
Mocha

whole

Mustard oil

Potato

cubed, quantity as preferred

1

Clove

2

Dried red chilli

1

Cinnamon

1

Cardamom

¼

tsp

Cumin seeds

2

Bay leaves

3-4

Green chilis

2

tbsp

Grated coconut

1

tsp

Turmeric

¼

tsp

Red chili powder

1½

tbsp

Ginger paste

½

tsp

Cumin powder

Salt

to taste

Sugar

to taste

1½

tsp

Ghee

¼

tsp

Garam masala

20

g

whole gram

Soaked, optional
Instructions
Prepare the Mocha (Banana Blossom)
The first step will be to prepare and chop the Mocha. Make sure to grease your palm with any oil before you start chopping, as the sap of the blossom is sticky.

Start by removing the outer layers of the blossom and take out the flower clusters. Stop peeling the layers when you see that they are firmer and more intact (the inner core).

Now from the flower cluster take a single floret and start by removing the translucent calyx and the pistil (the one with the bulbous head).

After you are done with all, oil your knife and start chopping. Chop into fine pieces and do not forget to reoil your knife.

Now take the inner core and divide it into halves vertically. Again, chop them finely and evenly.
Cook the Mocha
Collect them all and transfer them into a pressure cooker.

Add turmeric, water, and salt and pressure cook it until you hear one whistle. Release the pressure naturally and then strain the mocha.

Keep it for 20-30 minutes and then mash the mocha. This will create a crunchy and mushy texture and it won't be soggy.
Fry the potatoes
Next, chop the potatoes and put mustard oil in the kadhai.

Let it heat up and then add bay leaves, dried red chilis, cardamon, clove, cumin seeds, and cinnamon.

To this put in the potatoes and fry them until golden brown.
Add other ingredients
Add your grated coconut to the already-cooked potatoes and stir the well.

Keep stirring and then add a paste of cumin powder, turmeric, red chili powder, ginger paste, and water.

Next, stir them well and put in sugar and salt.

Add the green chilis and continue mixing everything well.
Add water
Put in some water and then again cook for 3-4 minutes.

Make sure that there is no raw smell of the spice mix and to this add the soaked chola if you want to.
Add the Mocha
Now put in the already prepped Mocha, mix well with everything, and cook it for 5-6 minutes until all the elements combine well.
Garnish
Don't make the dish too dry. Keep it for two more minutes and garnish it with ghee and garam masala.

At any point, if you think the dish is becoming too dry, you can add a splash of water, but not much.
ADVERTISEMENT
Serve the mouthwatering item to one and all and savor it with steamed rice, dal, and chutney. The combination is absolutely delicious and then be consumed any day. Share it with your loved ones if you love the dish.
---
Affiliate Disclaimer: Some of the links provided in the recipe are affiliate links. This means when you buy anything using those links, you help support this website at no extra cost.
Find more Recipes
---
---