Mousuni Island is a new addition to the list of best weekend destinations near Kolkata but has become quite popular in the last few years.
In this blog, I will tell you about my weekend trip to Mousuni Island, a small island located near Namkhana, towards the southern end of West Bengal.
You will get the following details about Mousuni Island,
So let's see each of these points in detail.
I was on my college campus when I got a call from home telling me to pack my bags and get ready for a weekend tour.
I was happy and excited at the same time, of hearing a holiday got planned and came as a surprise to me. And I'm that enthusiast as a traveler is always! I asked where were we off to, and then my mom said it was a place near the Sunderbans, known as the Mousuni Island.
As I heard the name, quickly my phone's Google got turned on, the name Mousuni Island were typed in, and yes! I got the images. Images of a beautiful place appeared and my excitement was at its zenith!
After an hour or so my parents came along with my dad's friend and his family. With a big smile on me, I got into the car and drove off!
In my mind it was only "Hey new place, here I come!".
Location of the Mousuni Islands
Mousuni Island is located towards the Southern end of West Bengal, near Bakkhali. It is surrounded by the Bay of Bengal on three sides and a river on one side.
You need to park your car and cross the river to reach the Islands. Cars are not allowed on the Island.
How to reach the Mousuni Islands?
It took about 3 hours and 30 minutes from my hostel in Kolkata to reach a place before we had to cross a river to reach the Mousuni Islands.
Kolkata to Mousuni Island Distance:
The distance between Kolkata and Mousuni Island is about 120kms which takes about 3 hours to reach. It may even take 4 hours depending on the traffic jam and the condition of the road.
We got off the car, parked it at the parking zone, and went for the boat. I was chatting, laughing, and dancing all along the way.
The camera was already getting filled with pictures. We got on the boat and after a 10-minute boat ride, we reached the main Island.
After we reached Mousuni Island, we had to take two Totos to reach the spot where our hotels were.
It takes almost 15 minutes for Toto to reach and then a 5 mins walk until you reach the final destination.
Where to stay on Mousuni Island?
There are two types of accommodations there. Cottages and tents.
We had two options and we chose the cottages. We booked them through an agent. I would recommend you book the rooms at least a week in advance as they may not be available when you reach there.
The prices vary from Rs 1000-Rs 1400 depending on the season and availability which includes food and lodging.
Well, the cottages were too cozy and comfortable. Ahhh… I don't know about the tents as I was not staying in one, but I can guarantee they were cozy and comfortable as well.
These cottages and tents were surrounded by a wooden fence.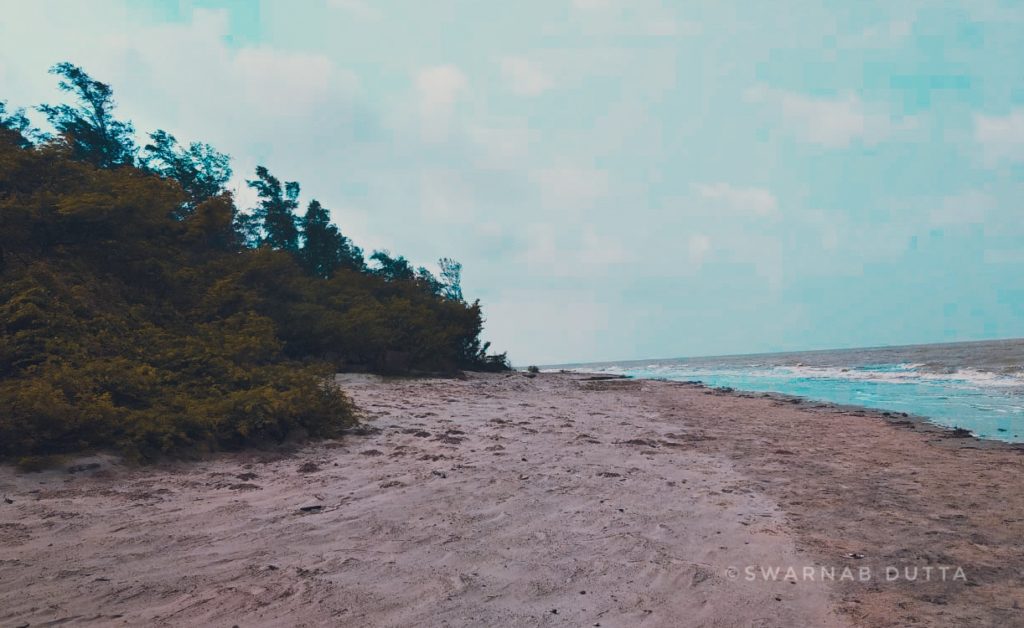 What to do on Mousuni Island?
One could see the sandy beach, green coconut trees, and bushes, and the blue sky connecting with the serene waters, lying on cozy rope hammocks. The beautiful sunrise at the dawn and the sunset with the orangish-red hue of the sky is mesmerizing.
Most of the time I stayed there I use to lay on the rope hammock enjoying nature, taking photographs, and eating a lot of seafood. And and and… the most fun part was going into the waters and to play in it.
Well, the water bed was a lot clayey rather than sandy as in most beaches and I guess I slipped a number of times.
Yeah! the bed was clayey as at this place the river converges into the sea.
One could get any kind of sea fish and crabs to eat and they are delicious. I am a seafood freak and that was a paradise to me.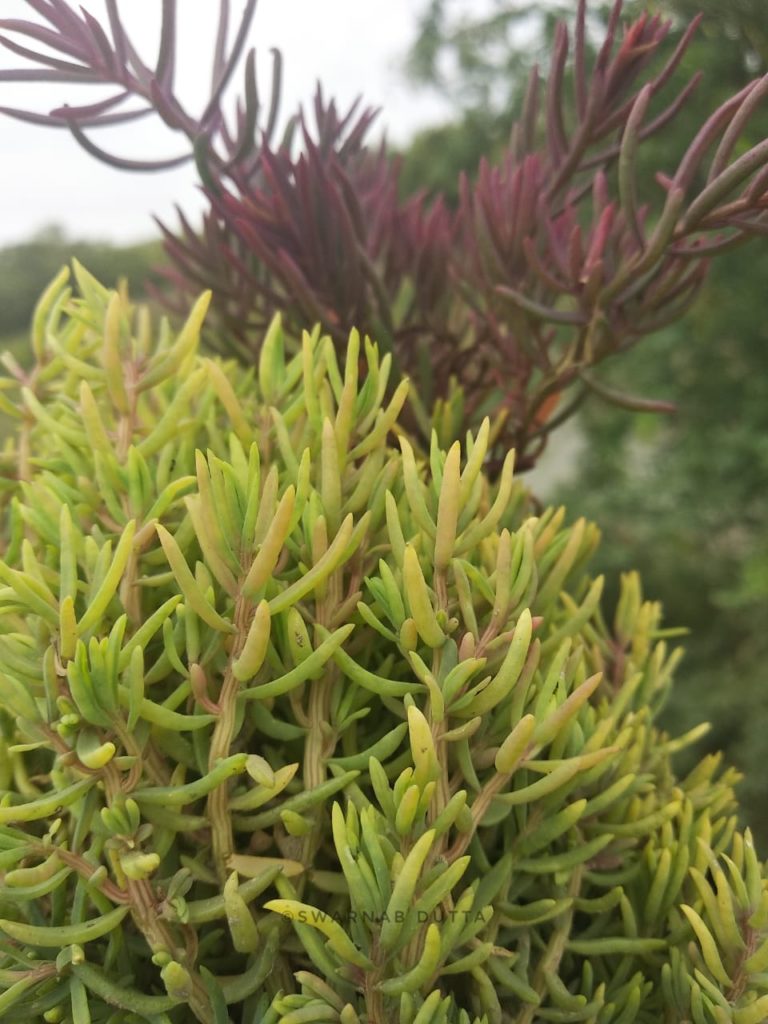 I was going on ordering different kinds of fish which I never had before and different kinds of dishes made out of them. Oh… yes I had crabs too. Fleshy, juicy, spicy, in short, 'amazing'. I won't ever get tired of eating those.
There is a shade made of wood and coconut leaves, and underneath that, there is a wooden round table surrounding which there are benches. One can use them to sit and eat. Ohh!!! I always used to be on those hammocks. Perfect place for a 'Lyadhkhor' like me!
Of course, I used to leave them *lol* but only while sleeping at night. Oh yes, we all used to go to the beach in the evening. Just a heads-up that there were no lights at the beach.
It used to be jet black and we generally used phone flashes just to see the purple shell crabs which usually come out during the evening. They were huge shell crabs and they were beautiful.
Best time to Visit Mousuni Island
The best time to visit Mousuni Island is from December to March. It's generally a one or two-day tour as there's nothing much to see but to enjoy nature and the cool sea breeze.
Our one-and-a-half-day tour came to an end with the end of that night. And the next morning we packed everything and started our journey back home.
We again had to take Totos to reach the place from where we had to take the boats. The boat took us to the parking zone. Time ran fast and we were again in our car and then on the road that was taking us back to our home.
The visit to the Mousuni Islands was a great trip and a fun experience to be with nature as we are always in these treeless cities.
We were there for a day and a half as it is a place to relax and enjoy nature. One won't find a lot of things to see but that's a perfect place to feel and enjoy nature and to be with it.
---
Some other articles you might like
---
---
Disclaimer: Some of the links provided in the article may contain affiliate links. This means when you book or buy something using these links, you help support the website at no extra cost.
---