Matar Paner is a delicacy that is enjoyed and savored throughout the northern part of India. The dish has its own authenticity and essence. This popular Indian curry paneer (Indian cottage cheese) and green peas in a creamy gravy of few ingredients and spices.
You will find this in every North Indian restaurant and in variations of taste and looks. However, the flavor of all the variations is mind-blowing.
ADVERTISEMENT
With each state, the Matar Paneer ki sabzi changes a bit but the authenticity still prevails. You can enjoy this cuisine with steamed white rice, roti, or parantha to take in all the hints of luscious ingredients.
Let us see what the ingredients are and how to make this finger-licking cuisine at home.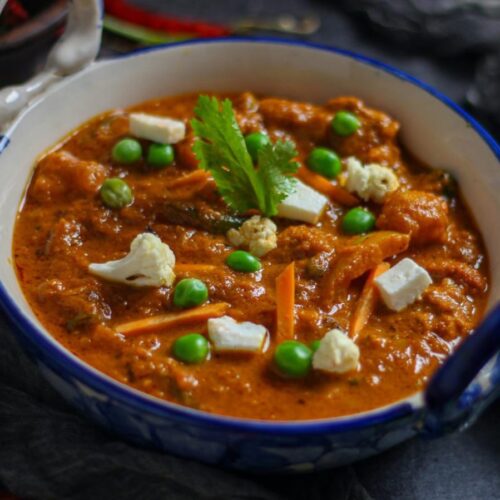 Easy Matar Paneer Recipe (Indian Style)
Recipe to make delicious Matar Paneer at home. Simple ingredients, instructions, and equipment to cook Indian-style Matar Paneer gravy easily.
Equipment
1 Induction Cooktop

1 Kadhai

1 Mixer Grinder
Ingredients
Paneer

½

cup

Tomatoes

Ripe, a few medium size

Green peas

fresh or frozen

½

cup

Onion

one medium to large

Green chilis

10-12

Cashew nuts

1/4

Turmeric powder

Red chili powder

½

tsp

Cumin seeds

1

tsp

Ginger

Garlic

2

tbsp

Coriander leaves

1

tsp

Coriander seeds

1

Cardamom

green

1

inch

Cinnamon

2

Clove

Black pepper

Corns

Salt

1/4

Garam Masala powder
Instructions
Prepare the paste
Take chopped onions, chopped tomatoes, chopped ginger, cashews, chopped or slit green chilis, coriander leaves, cinnamon sticks, coriander seeds, black peppercorns (as per heat tolerance), cardamom, and clove in a mixer.

Add ¾ cup of water and make a smooth and creamy paste.

When it turns creamy without any lumps, set it aside.
Prepare the masala
Add 2-3 tbsp of oil in a kadhai or pot. When light smoke starts coming from the oil, reduce the heat to low.

Put the cumin seeds in the kadhai.

Fry until it splatters and the fragrance comes off. Make sure not to burn it.

Now to this, add the creamy masala paste and stir it well.

The masala will start to splatter, so be mindful, and if you want, put a lid on the top for some time.

Next up, sauté the mixture well for around 12-15 minutes. The heat should be medium-low to avoid the paste from sticking at the bottom.

Stir until the oil starts separating from the masala and the rawness goes away.

At this point the cooked masala will look yummy, thick and shiny, and have a great fragrance.
Prepare the gravy
Now add all the dry spice powders (turmeric powder, Kashmiri red chili powder, garam masala) to the preparation.

After this, you can add light or heavy cream to the masala (add 1 tbsp to keep it light).

Stir everything well and put in the already rinsed matar or green peas.

Mix all of it well and then, add 1-1 ½ cups of water along with salt to taste. Let this shimmer for some time on low heat.
Prepare the paneer
While this is cooking, cut your paneer into cubes, and heat another pan will a bit of oil.

When it is hot, put in the paneer, stir it for 10-15 seconds, and take it out. Put it into ice-cold water. This makes the paneer much softer and flavorful.
Prepare Matar Paneer
In between, check on the gravy. Mix and stir occasionally to prevent it from burning. If needed, add a bit more water and continue cooking covering it with a lid.

Taste in between, and when you get your desired thickness and flavor, add in the paneer cubes.

If you want lightness, then put in around ½ tsp of sugar.

Shimmer it on low heat for around a minute or less.

Finally, garnish it with chopped coriander.
ADVERTISEMENT
Now that your dish is prepared, serve it hot with rice, roti, or naan. All of these go well with this mouth-watering recipe.
Savor the delicacy with one and all. It is certain that you will like it. Enjoy!
Image used is for representative purposes only.
---
Affiliate Disclaimer: Some of the links provided in the recipe are affiliate links. This means when you buy anything using those links, you help support this website at no extra cost.
Find more Recipes
---
---