The flavorful Indian spicy pasta masala is a quick recipe and will always remain your favorite one.
The pasta recipe I brought for you is full of veggies, spices, and sauces which brings a spark to your taste buds.
ADVERTISEMENT
Loaded with whole lots of vitamins and proteins let us see how to make Indian style Chicken Pasta masala recipe…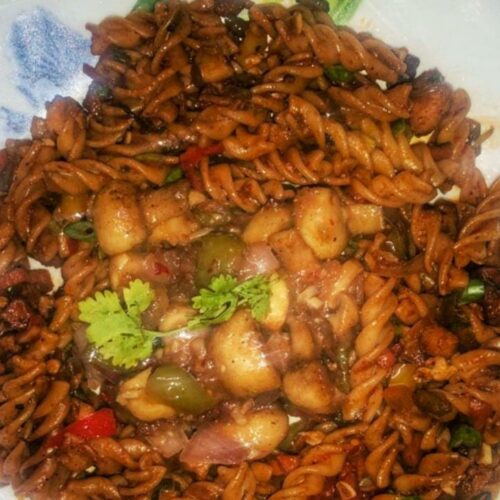 Masala Chicken Pasta Recipe (Indian Style)
Delicious Indian style masala chicken pasta recipe. Simple ingredients and instructions on how to make tasty masala chicken pasta easily at home.
Ingredients
Chopped garlic, ginger, & green chillies

2

Medium size onions

Red bell pepper

Green capsicum

Yellow bell pepper

Fresh coriander leaves

spring onions

Paneer

Chicken breast

Eggs

Cheese spread

Schewean Chutney

Black pepper

Oregano

Chilli Flakes

Vinegar

Magic masala

Soy sauce

Tomato ketchup

Refined oil

Butter
Instructions
First, boil water and add refined oil and salt to it.

Add the pasta and let it boil for 10 minutes.

Add sufficient refined oil to prevent sticking.

After it has finished boiling, you can add cold water immediately so that it is not overcooked.

Now, heat refined oil in a pan.

Cut the chicken breasts in small pieces.

Fry the chicken pieces, egg, and fry the paneer slightly.

Dip garlic and green chilies in vinegar. This can give the pasta a unique flavour.

Now keep those separately and add butter to the pan.

Now add the chopped garlic and green chillies and start frying the veggies in the pan in a low flame.

Add chopped ginger. You can even add a little ginger paste.

Next, add the coriander leaves and spring onions.

Add salt and sugar accordingly.

After the veggies are lightly fried, add magic masala, tomato ketchup, vinegar and soy sauce one by one.

Now add the fried egg, chicken and paneer one by one. Fry them all and add the boiled pasta.

Mix the pasta well with the veggies. To add more flavour and taste don't forget to add chilli flakes and oregano.

Now in a bowl take cheese spread, schewan chutney and black pepper. Mix them well.

Now add the mix into the pasta.

Mix the pasta well with the cheese and schwean chutney.

Add a butter cube at the end. If you want you can add a more spring onions and chopped coriander.

Serve it hot.
ADVERTISEMENT
The love for street food for kids is intense.
You can easily prepare this type of street food at home for your children and family. The yummy and healthy pasta in their lunchbox too can lighten up their day.
You can try the pasta with a side of Chili Mushroom or Chili Chicken.
---
Affiliate Disclaimer: Some of the links provided in the recipe are affiliate links. This means when you buy anything using those links, you help support this website at no extra cost.
Find more Recipes
---
---