All dishes of Hilsa (Ilish) fish are very tasty and the aroma is simply overwhelming.
The Tel Jhol recipe of Hilsa is a delicious recipe that is very easy and quick to prepare.
ADVERTISEMENT
Today you will get to know the steps to make Ilish Macher Tel Jhol easy at home.
So let's have a look.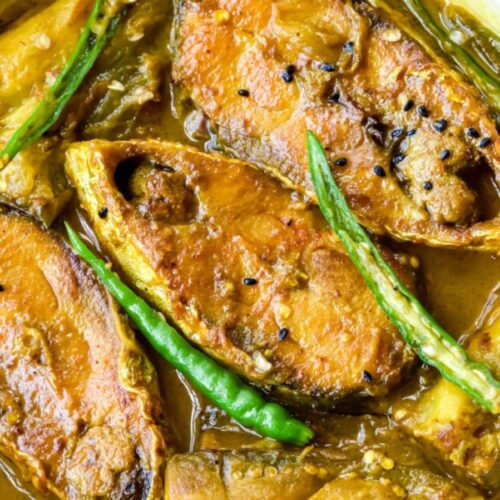 Ilish Macher Tel Jhol Recipe (Hilsa Light Gravy)
Recipe to make tasty Ilish Macher Tel Jhol easily at home. Simple ingredients, instructions, and equipment to prepare Hilsa fish light gravy easily.
Equipment
1 Induction Cooktop

1 Kadhai
Ingredients
4

pieces

of hilsa fish

1

large potato

1

Eggplant

5

teaspoons

Mustard oil

¼

teaspoon

black cumin seeds

5

green chilies

salt

turmeric

sugar
Instructions
Wash the hilsa fish pieces with a little water and apply little salt and turmeric around them.

Do not wash the fish too harshly otherwise, it may result in the loss of taste.

Cut the potato lengthwise into 8 long pieces.

Cut the eggplant lengthwise into 8 pieces.

Heat 4 spoons of oil in a pan, fry the pieces of fishes in fuming oil for 1 minute, and take them out from the oil.

Add black cumin seeds and 2 green chilies to the same oil and fry it.

Now add the potatoes and brinjals to fry.

Add a little salt and turmeric with it and keep frying.

After frying for 3-4 minutes, add 2 cups of water.

Add salt to taste (take care if salt has been used before), sugar, and 1/4 teaspoon of turmeric, and boil the broth (jhol) on high heat.

When the potatoes are half cooked, add the fish pieces and add 3 green chilies cut into thin slits in the broth.

Simmer for another 5 minutes on low heat, and your hilsa fish is ready with the rich aroma of tel jhol.
ADVERTISEMENT
Serve it hot with some steaming rice.
---
Affiliate Disclaimer: Some of the links provided in the recipe are affiliate links. This means when you buy anything using those links, you help support this website at no extra cost.
Find more Recipes
---
---