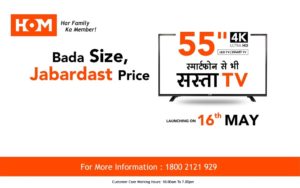 55 Inch TV
HOM, the brand that has
already sold over 10,000 TV units of 32″ and
40″ Smart LED TV
in a span of 50days to customers across, is all set to release its new 
55″ Smart LED TV 
at Zabardast Price on 16th May
.
A unique segment for Indian consumer to watch in a bigger screen, 55inch Android Smart TV with Miracast Technology.
HOM, an Indian-based consumer electronics, and appliances company will be delivering superior-quality across India with the lowest price to its consumer, will introduce its new product 55" Smart LED 4K TV that promises to bring everything you watch to life at lowest possible price to Indian Consumer on 16th May Wednesday. Movies, music, sports, games, online content — whatever you're watching, whatever the source, everything is optimized for an immersive experience.
Key Features:


• 4k Ultra HD technology
• 1920 x 1080 pixels
• Access to Google play store, Netflix, and Youtube
• Miracast feature
• USB to USB copy function
• 2 HDMI ports
• Android operating system
• supporting 2HDMI ports
• 365 days replacement


With a slim profile, the TV blends seamlessly into your living space. It's perfect for wall mounting and its discreet, narrow bezel puts your focus firmly on the picture, not the frame. Discover every detail in Full HD 1080 with extreme brilliance, that brings real viewing experience with its picture processing, that upscales every pixel for exceptional picture clarity.
The dynamic visuals and the striking contrast ratio blend together to bring a fusion of brightest and darkest colors aptitude.
Experience richer & deeper sound, as the sound clarity matches the perfect picture quality. TV Audio is fine-tuned to hear music/dialogue and surround effects with separation, to whatever you are watching.
Integrated with the latest technology and features such as the user-friendly interface for easier adaption, endless internet supported in-built apps and 2 HDMI ports, Wi-Fi, makes this TV to emerge as a distinct face. Being an Android smart TV, access numerous inbuilt reckoned, online and offline apps namely.
With the availability of 2 HDMI ports, you can now share the screen or connect to two different sources of system units, just by plugging in the HDMI cable.

Even, sharing movies and multimedia storage files through Miracast is on fingertips; without getting into a wired library. And with no worry on power consumption, the Full HD TV is crafted with Super Energy Saving Technology which consumes less than half percent of energy than usual.

Director of HOM, Mr. Yogesh Poojara said, "Steeping in consumer durable brand called HOM:- "HarFamilyKaMember" with an ideology to share, without spending much, now you can experience the pulse and thrill of reel to real entertainment on HOM 55inch 4K SMART LED TV. Designed exclusively for Indian Markets, we give our customers an international experience and additional benefits with products without compromising on the quality. HOM brand already won the hearts of consumers in 32" Smart LED TV at Rs.12990 and 40" Smart LED TV at Rs.19990 with 365 replacement warranty".


About HOM-

"HarFamilyKaMember":
HOM, an Indian based consumer electronics & appliances company, and a sister brand of Poojara Telecom and Hariom Communication LLP. Aspiring to make consumer satisfaction as the key differentiator, HOM is working insistently to create new products and experiences for the Indian Consumers.
The brand has already sold over 10,000 TV units of 32inch and 40inch Smart LED TV in the span of 50days to customers across, keeping in mind the highest quality standard of products and after sales services are delivered. Its product portfolio offers a comprehensive range of Consumer Durables with LED TVs, Home Audio &Home appliances will be available at major electronic stores and retailers across the country.
HOM envisions to bring the International feel to the Indian consumers with its quality products at the best price. Moving forward, HOM aims to expand its leadership role using groundbreaking distribution power and aims to be part of each family house. Which say "Har Family Ka Member" with technology and leading-edge designs for not just the technically-savvy consumers, but for everyone who opts for the newfangled mode of entertainment, comfort, and luxury. For more details log on to http://www.HomIndia.in

CC: http://www.fromote.com/#HOM