Who doesn't like a bite of warm fudgy brownie! Easy to make, perfect to eat, and simple solution for uplifting the mood.
There are a lot of brownie recipes out there that are quite complex and take a lot of time and ingredients.
ADVERTISEMENT
Today I am going to tell you about a recipe that is not only simple and easy to make but also tastes delicious.
Yes! you heard it right. It just takes a couple of minutes and is ready to go into the oven.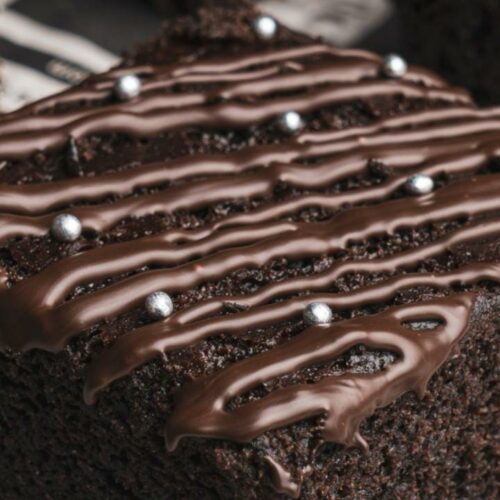 Fudgy Homemade Cocoa Brownie Recipe using OTG/Oven
Best recipe for a warm fudgy brownie. Easy to make and simplest homemade fudgy with egg/eggless brownie recipe that can be made in OTG.
Ingredients
1

cup

flour

½

cup

granules sugar

½

tsp

salt

½

cup

cocoa powder

1

egg

1

tbsp

oil/1 stick butter

1

tsp

vanilla essence.
Instructions
Making the perfect batter
In a large bowl, mix the melted butter/oil and sugar with an electric hand mixer.

Add the eggs (or milk for eggless) and start beating them.

Now add the flour, salt, and Cocoa powder to the bowl.

Add some Vanilla essence.

Mix all these until a smooth batter is formed. Make sure not to overmix it, as it will make the brownies more cake-like.
Steps for baking
Pre-heat the Oven. (Recommended Temp: 200°C, Recommended Time: 10 min)

Transfer the batter to a prepared baking tray and smooth it out.

Pop it into the oven and bake it for 20-25 minutes

Viola, a yummy, fuggy brownie is ready to be served and eaten.
ADVERTISEMENT
You can even use dark or milk chocolate for mixing into the batter or use it as a garnish to get that melty smooth chocolate in your mouth.
It can also be a perfect dessert with just a scoop of ice cream and some chocolate sauce on it. Now it's done and is ready to make any and everyone happy.
Affiliate Disclaimer: Some of the links provided in the recipe are affiliate links. This means when you buy anything using those links, you help support this website at no extra cost.
Find more Recipes
---
---
---
Love food? Click here to check out my food blogs!
For any enquiry mail me at [email protected]
Connect with me for more:
Instagram(Lifestyle): @itsswarnab
Instagram(Food): @thebongtastes
Instagram(Travel): @thebongclicks
Zomato: @rajswarnab
All the images used in the blog are Copyright work of Swarnab Dutta and should not be used without permission.