Fish fry made in Bengali style is a very popular dish. It's one of the appetizers you get at any occasion such as a wedding reception. or When the invitation goes home, the fish is fried on the first plate.
This nonveg dish is very easy to make and can be with very less ingredients.
ADVERTISEMENT
You can also make these fish fry at home quickly when guests come to your house.
So let's see how you can make crispy Bengali-style Fish Fry in this recipe. I will be using Bhekti fish for this dish.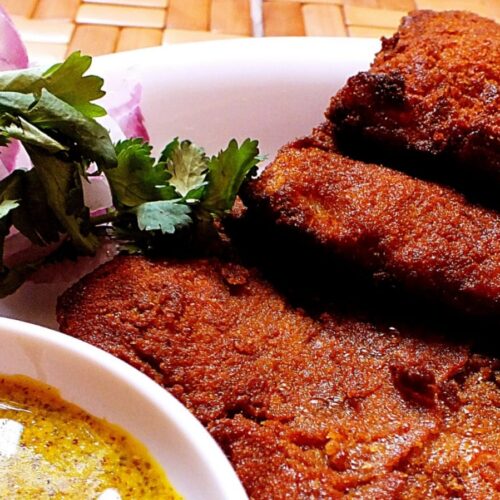 Fish Fry Recipe Bengali Style (Bhetki Fish)
Crispy Bengali style Fish Fry recipe. Simple ingredients and instructions on how to make delicious Bhekti Fish Fry easily at home.
Ingredients
4-5

Bhetki fish piece/fillet

Salt

Sugar

Yellow

Red chili powder

Pepper powder

Ginger Garlic Chilli Bata

Coriander leaf paste

Biscuit powder

Flour

Eggs

Vegetable Oil
Instructions
Marinate the fish pieces or fillets
Marinate the fish well with salt, turmeric, ginger, garlic & chilli paste, and chilli powder.

Then add salt, sugar, coriander leaf paste, and 3-4 teaspoons of lemon juice for taste.
Coat the fish pieces or fillets
Take biscuit powder, flour and an egg to coat the fish.

Beat the eggs well with salt and chilli powder.

First, coat the fish pieces or fillets with flour coat. Then add the egg mix.

Put the pieces of the fish on the biscuit powder and coat it with the eggs mix.

Coat the fish with biscuit powder in such a way that the fish pieces are well coated on both sides.

After coating, keep the fish pieces in the fridge for 15 minutes.
Fry the fish pieces or fillets
Now put vegetable oil in a pan for frying the fish.

When the oil is medium hot, add the fish pieces.

Let the fish fry until its golden brown and then place it on a tissue paper so that the extra oil draws out.
ADVERTISEMENT
You can store this fish fry dish in the fridge for 2-3 days and if you keep it in the deep freezer for 5-7 days.
This term you can eat with 'Kasundi' or tomato ketchup.
Cover Photo Credits: Riya Chattopadhyay
---
Affiliate Disclaimer: Some of the links provided in the recipe are affiliate links. This means when you buy anything using those links, you help support this website at no extra cost.
Find more Recipes
---
---