Experience of house boat or Shikara at Dal Lake, Kashmir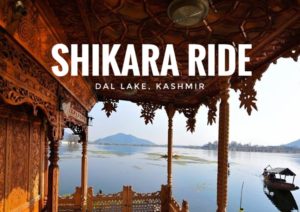 Hey Everyone,
Dal Lake is one of the most confusing parts of Srinagar for it's not just one lake, but three.

Further more, much of it is hardly what one would expect a lake to be like – it's a maze of intricate waterways and channels, floating islands of vegetation, houseboats that look so firmly moored they could almost be islands and hotels on islands which look like they could simply float away.

This place does attract a lot of tourist because the Dal Lake is the main attraction of Srinagar, Kashmir.

The specialty of this place is covered by Islands, Shikaras, Houseboats & Floating Gardens.

The best time to visit Dal Lake is June to August.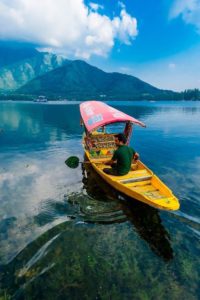 A boat at Dal Lake
So on the next day of our Dal Lake trip, we booked a private cab from our Hotel in Hotel New Prince Inn at Srinagar. It took us around 4hrs to reach this place. If you go through a Make-my-Trip of travel agency, make sure they have this place on their list.

PRICE OF SHIKARA RIDE: Rs.500/- PER HEAD

Dal Lake is famous for its lovely ride for a Shikara. The ride includes the sailing on tranquil environment, watching few water sports activities, birds and visiting the whole floating market.

It was the time to take a leisure Shikara ride. I again sat on the Shikara and my rover started roving it into the rippling water. Very soon my Shikara was followed by many other Shikaras which were selling several products like jewelry, Kashmir special handicraft, food products like corn, famous Noon tea and coffee etc.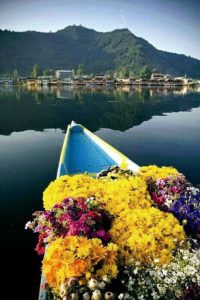 Boat Selling flower at Dal lake


I bought some fruits to eat during this journey. After that, my boat rover took me to a market, known as floating market. Floating market has everything in it such as from grocery stores, clothing and leather products to fine carved luxurious furniture and handicrafts.