The veg eggless egg curry has become very popular in recent days. This luxurious, tasty, and creamy cuisine has an earthy flavor with a punch of spices to it.
Also known as Paneer Ke Ande, this dish exactly looks like an egg curry, but it is actually an item made out of paneer and other ingredients. The imitation is uncanny and tastes heavenly. When you cut through the eggs, there will be this beautiful yellow yolk along with the white protein part.
ADVERTISEMENT
You can make it on any occasion or any day you feel like having it. The process can be a bit time-consuming, however, the egg curry will be worth the effort. The best part is, when you serve it, everyone will be surprised to see the presentation.
Naan, rice, roti, or parantha, anyone can be a good carrier of the flavors. The recipe can be made easily following the simple steps and ingredients given in this article.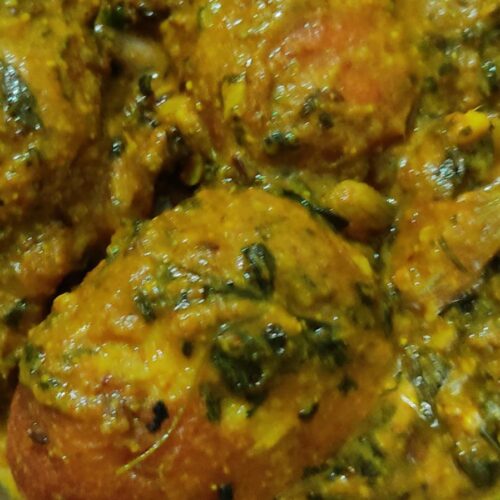 Eggless Egg Curry Recipe (Paneer Ke Ande)
Easy recipe to make delicious Eggless Egg Curry at home. Simple ingredients, instructions, and equipment to cook Indian-style Paneer Ke Ande or Veg egg.
Ingredients
1

cup

Paneer

grated

1

Potato

Boiled

1

tsp

turmeric powder

2

tbsp

corn flour

Vegetable oil

Salt to taste

½

cup

Toor dal

1

inch

Ginger

paste

4-5

cloves

Garlic

3

Tomato

1

Onion

Medium

1/2

Onion

finely chopped

1

Bay Leaf

1

inch

Cinnamon stick

1

tsp

Chili powder

1

tsp

Cumin seeds

½

tsp

Coriander powder

½

tsp

Cumin powder

½

cup

Curd

½

tsp

Garam Masala

1

cup

Water

2

tbsp

Coriander

finely chopped

Kasuri Methi
Instructions
Prepare the eggless eggs
In a bowl, take the grated paneer, salt, cornstarch, and boiled potato and combine them well. Make it into a dough and set aside.

Next, in a bowl, take the blended Toor dal and add salt, a bit of Hing, and a bit of ginger (optional) to it.

Now, take a kadhai, and heat some oil until it starts to smoke. Put the dal mixture and start to stir. Add a bit of turmeric powder to make it vibrant yellow. This is for the yolk.

Continue stirring until the rawness is gone. Do not harden the mixture.

Next, take the dal mix out of the kadhai and start to make the eggs.

Grease your hands well before starting the process. Make small balls of yolk using the dal mix and keep aside.

Take the paneer mix spread it out on your palm, put in the yolk, and close it up. Shape it like an egg and it is good to go.

Now, after the eggs are prepared, fry them in hot oil. Make sure to not burn them. Fry it until golden brown and keep them aside.
Prepare the gravy
In a kadhai, heat some vegetable oil and add the ginger, garlic, onion, and sauté them until they turn golden brown.

Now to that add the tomatoes and stir them until all the ingredients are soft and mushy.

Take them out, and blend them after they cool down.

Next, in the Kadhai, add some oil and heat it until it smokes lightly.

To that, add a bay leaf, cinnamon, and cumin. Sauté all the aromatics until you get a good fragrance. Do not overcook the spices.

To this spice mix, put in some chopped onions and fry it until translucent or golden brown.

Now add turmeric, coriander powder, chili powder, cumin powder, garam masala, and salt. Keep the heat low and combine them well.

Stir them until the aromas fill your nose from the spices and now add the paste that you had prepared before.

Cook all the ingredients until they are cooked and you see the oil separating.

Now add 1 cup of water and mix well, for the gravy.

Cook them for a few minutes, and check the salt.
Prepare Eggless egg curry
To the already-cooking gravy, gently put in the prepared eggless eggs and cover the kadhai with a lid.

Let the dish simmer for around 2-3 minutes.

Stir it once more and add 1 tsp of kasuri methi and then the finely chopped coriander leaves.

Give them a final mix and your dish is ready.
ADVERTISEMENT
There you go! The eggless egg curry is ready. Serve this amazing cuisine to all your loved ones and indulge in savoring together. Pair it with steamed rice or any other carrier such as roti, aloo parantha, etc., salad, and achaar to take in all the fun. Enjoy a great lunch or dinner with this amazing combo.
If you like the recipe do not miss out on sharing it with your close ones. Be certain to get a lot of praise from all the guests and family members!
---
Affiliate Disclaimer: Some of the links provided in the recipe are affiliate links. This means when you buy anything using those links, you help support this website at no extra cost.
Find more Recipes
---
---