Egg Chowmein is a delectable and flavourful blend of stir-fried noodles, eggs, and veggies. This popular Indo-Chinese dish is a perfect combination of spicy and savory sauces along with crunchy veggies, chewy noodles, and soft fried eggs.
The tantalizing mix originated from the streets of Kolkata and is one of the most satisfying snacks to savor. Chow mein has become a favorite among all the food enthusiasts worldwide. The bold and robust zings made it much more popular. You can make it any time you want to, be it a quick lunch, a hearty dinner, or a late-night snack. It will also get you covered if suddenly a guest arrives.
ADVERTISEMENT
So, the next time you are yearning for a tasty and satisfying meal, give Egg Chowmein a try. Its enticing flavor profile and irresistible aroma are sure to take you to the bustling streets of Kolkata, where every bite is a culinary thrill. Let us see how to make this simple yet yummy dish and the ingredients needed for the same.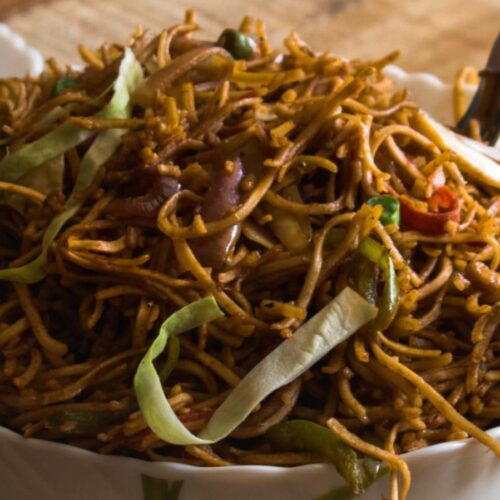 Egg Chowmein Recipe (Kolkata Street-Style)
Recipe to make tasty egg chow mein easily at home. Simple ingredients, instructions, and equipment to prepare Kolkata Street-style egg chow easily.
Equipment
1 Induction Cooktop

1 Cooking Pan
Ingredients
1

Packet Noodles

Chow

1

litre Water

Salt

to taste

2-3

Eggs

1

Onion

large

1

Capsicum

large

2

Carrot

⅓

Cabbage

4-6

cloves

Garlic

3

Green Chilis

8

Button Mushrooms

optional

1

tsp

Black pepper

¼

tsp

Sugar

1

tsp

Soy sauce

1 ½

tsp

Vinegar

1

tsp

Red chili sauce

1

tsp

Green chili sauce

1

pinch

Garam Masala

optional

Vegetable oil
Instructions
Prepare the veggies
First, start with washing all the veggies.

Next, slice the onions thinly. Chop the capsicum into medium-wide strips and the carrots into thin long strips.

Peel the top of the button mushroom and cut them from the top towards the stalk. You can keep or chop off the stalk.

Now, finely chop the green chilis and then mince the garlic cloves.
Prepare the sauces
Before starting to cook, take a bowl and in that, mix the soy sauce, green chili sauce, red chili sauce, a bit of salt, pepper, and vinegar.
Boil the noodles
Next, take a pot, fill it half with water, and put some salt in it.

Let the water come to a rolling boil and then put in the noodles.

Cook the noodles until they are springy and chewy. Stir it occasionally. Do not overcook the noodles or else they will turn mushy.

After the noodles are cooked to perfection, strain them immediately and put them in an ice bath. This will stop the cooking any further.

Then, take the noodles out after a minute and shake well to remove any excess water. Spread them on a plate and coat them with a teaspoon of oil. This will stop the sticking and clumping.
Prepare the eggs
Next, whisk two eggs with salt to taste.

Take a frying pan and heat some oil. Put in the eggs and scramble them on medium flame. Do not over-fry the eggs.
Fry the veggies
Heat the wok over the flames. If you don't have a wok, you can use kadhai.

Put some oil and heat it until you see the smoke.

Now, add in the slices of onions. Keep the flames to high and fry them for a minute.

Then, add the carrots and fry them for 1 minute.

To the veggies add in the minced garlic, capsicum, mushrooms (optional), cabbage, and finely chopped green chilis.

Saute everything on high heat for a minute and then add in the sauce, garam masala (optional), salt to taste, sugar, and black pepper.

Combine all of it really well.
Add the noodles and eggs
Add in the noodles bit by bit. This will help in mixing everything better.

Lastly, put in the scrambled eggs.

Mix all the items and then transfer them into a bowl.
ADVERTISEMENT
Your Egg Chow mein is ready to be served. Pair it with chili chicken or chicken Manchurian and serve it hot. Relish the dish and enjoy all the bites. It is filling and mouth-watering.
If you are satisfied with the recipe, share it with all your pals along with the joy that comes with the food.
Cheers to an enchanting meal!
---
Disclaimer: The image used is for representative purposes only.
Affiliate Disclaimer: Some of the links provided in the recipe are affiliate links. This means when you buy anything using those links, you help support this website at no extra cost.
Find more Recipes
---
---