A variety of chicken items have been originated in India.
There are many dishes that are unique to each state in India, which includes a large number of chicken dishes as well.
ADVERTISEMENT
Bengalis are food lovers, so they try many authentic restaurant recipes at home itself.
So, today I will easily make one of the Bengali chicken recipes with cashew nuts and greek yogurt, which is usually a Mughlai food.
Today my recipe is Chicken Korma.
Let's see how to cook Chicken Korma easily at home…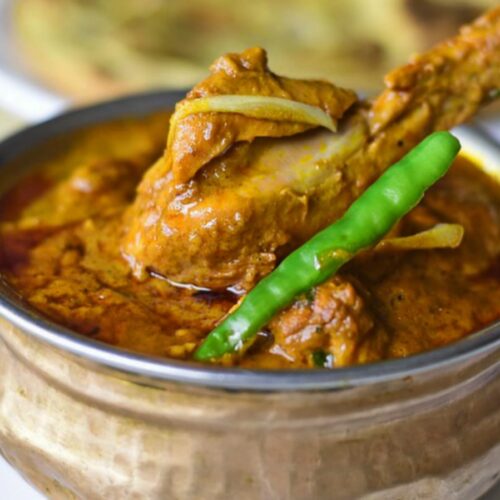 Chicken Korma Recipe Indian Style
Easy recipe for making delicious Chicken Korma at home. Simple ingredients and instructions to cook tasty Indian-style Chicken Korma curry.
Ingredients
500

g

chicken

2

tbsp

Ginger-garlic paste

Onion

Chopped

4-5

​​green chilli

1

tbsp

Turmeric powder

1

tbsp

Red chilli powder

Coriander powder

Garam masala powder

Whole spices

especially cardamom and cinnamon

Greek yogurt

Coconut milk

7-8

Cashew nuts/Almonds

Refined oil

Ghee

little
Instructions
First take 500 grams of chicken and marinate it one by one with salt, mustard oil, ginger garlic paste and coriander powder for about 1 hour.

Then heat oil in a pan, add chopped onion and fry till golden brown.

Put four to five cashew nuts and three or four almonds in the pan. If you want you can also cook only cashew nuts.

Now cool the fried onion and nuts well.

Put these in a mixer grinder and grind these into a fine paste.

Then heat some oil in a pan again and add whole spices (garam masala), especially cinnamon and small or large cardamom.

When the aroma comes out of the oil, add the marinated chicken pieces and keep frying it well, till the oil is released from the meat.

When the meat is slightly fried, add hung curd and coconut milk or grated coconut.

Keep stirring for another two to three minutes.

Then add the paste made of onion and almonds and cashew nuts and mix the paste well with the chicken pieces and add a little hot water to the mixture.

Cover the lid and let the chicken boil well for atleast 15 minutes.

Then after 15 minutes open the lid and garnish the chicken gravy with slit green chillies and garam masala powder.

You can add 1 tbsp of ghee on top for better taste.

Your chicken korma is prepared.
ADVERTISEMENT
Chicken korma is a very easy-to-make recipe. This chicken korma can be eaten with butter naan, Paratha, or rice.
---
Affiliate Disclaimer: Some of the links provided in the recipe are affiliate links. This means when you buy anything using those links, you help support this website at no extra cost.
Find more Recipes
---
---