A dessert and a beverage zip up the circle of a flavoursome meal.
Cold coffee is one of my favourite beverages which tastes delicious when combined with a dessert like ice cream.
ADVERTISEMENT
So let's see how can you make cold coffee at home.
In this recipe, I will also be adding a scoop of Vanilla ice cream to enhance the taste. However, you can skip it or add something else on top if you want.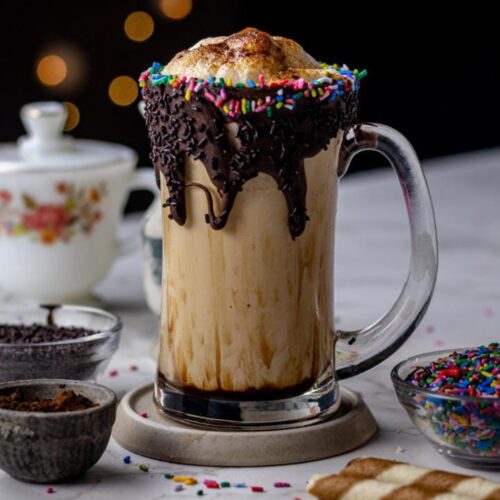 Cold Coffee Recipe (without coffee machine)
Recipe to make refreshing cold coffee at home without a coffee machine. Simple ingredients, instructions, and equipment to make cold coffee.
Ingredients
1

scoop

Vanilla ice cream

2

blocks

Ice

2

tsp

Powdered sugar

3

tbsp

Coffee

depends on how strong you want it

1

Cup

Cold milk

2

cups

Powdered milk

Whipping cream

Chocolate syrup

Choco chips
Instructions
Take 2 ice cubes, Powdered sugar, Coffee, Cold milk, Powdered milk and blend them in a mixer grinder until it gives a texture of froth. It will give a yellowish-brown colour.

Now take a glass.

From the edges start pouring chocolate syrup by rotating the glass in clockwise and anticlockwise motion so that it is unevenly distributed on the inner walls of the glass.

Now pour the blended coffee into the glass.

Pour the whipping cream by rotating your hand in a circular motion.

Sprinkle some coffee powder if you want.

Now add the scoop of ice cream on top. You can add any flavour or other items like Kitkat and Oreo.

Sprinkle choco chips on it.
ADVERTISEMENT
You should really try the simple cold coffee recipe at home.
It's very simple to make and I am sure you would love it!
---
Affiliate Disclaimer: Some of the links provided in the recipe are affiliate links. This means when you buy anything using those links, you help support this website at no extra cost.
Find more Recipes
---
---