As we talk about Indo-Chinese cuisine, Chili Paneer will have to be in the discussion. This famed vegetarian appetizer has won over the hearts of the non-vegetarians as well.
The soft paneer with the crispy crust together with the tangy sauce is a match made in paradise. The veggies add extra freshness and crunch to the dish. A certain tempting aroma comes out of the recipe as it is served.
Chili Paneer is a very easy dish to make and you can try this at home to relish it. Get into the saucy deal and impress your close ones with this.
Let us see the list of ingredients and the process to make it.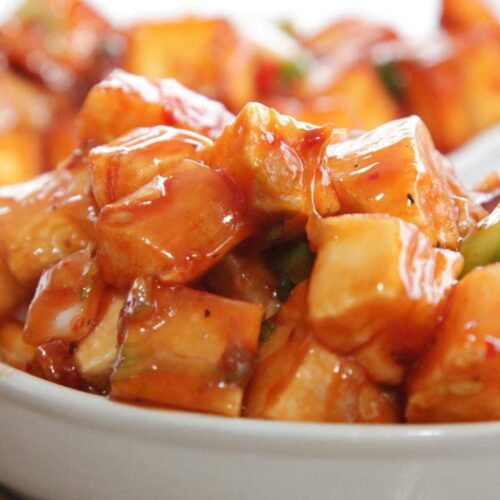 Tasty Chili Paneer Gravy Recipe (Restaurant Style)
Recipe to make delicious Chili Paneer gravy at home. Simple ingredients, instructions, and equipment to cook Indian-style Chili Paneer gravy easily.
Equipment
1 Kadhai

1 Induction Cooktop
Ingredients
For the Paneer
250

g

Paneer

3½

tbsp

Cornstarch

3

tbsp

All-Purpose Flour or Maida

½

tsp

Red Chili powder

1

tsp

Black Pepper powder

1

tsp

Soy Sauce

optional

Salt

to taste

Water
For the Gravy
½

cup

Green Bell pepper

½

cup

Red Bell peppers

1

Onion

large

2

tbsp

Spring Onions

3

Green Chilis

2

tbsp

Garlic

finely chopped

1

tbsp

Ginger

finely chopped

1½

tbsp

Soy Sauce

4

tbsp

Tomato Ketchup

3

tbsp

Red Chili Sauce

3

tbsp

Green Chili Sauce

1½

tbsp

Vinegar

2

tbsp

Black pepper

1

tbsp

Kashmiri Red Chili Powder

for color

Salt

to taste

Sugar

to taste

Corn starch

Water

Vegetable Oil
Instructions
Prepare the Paneer
Take a bowl and make a solution using salt and sugar.

Next, cut the paneer into cubes and then immerse them in the prepared solution. This makes the paneer very soft and flavorful.

Keep the paneer in it for about 20 minutes.

While the paneer is resting, make the batter for the paneer.
Make the batter
Take a large mixing bowl and add the cornstarch, all-purpose flour, red chili powder, black pepper powder, and salt to taste.

Mix all the dry ingredients nicely.

Next, add water in small quantities and whisk. We need the batter to be semi-thick.

Now, add the soy sauce (if using).

Mix everything in and keep aside.
Fry the Paneer
When the paneer has rested well, take it out of the solution and pat it dry using kitchen tissues.

Next, put them into the batter and coat them well. Keep aside.

Now, take a kadhai or a deep-frying pan and add oil.

Let it heat until it smokes a little.

Take one coated paneer at a time and gently lower it into the hot oil. Keep the flame on medium.

Fry them from all sides until golden in color. Do this in batches.

When they are fried, take them out of the oil and place them on a plate covered with kitchen tissues. This will soak the excess oil.
Prepare the Vegetables
Finely chop the ginger and garlic.

Next, wash all the veggies. Peel the onion and cut them into cutes.

Cut the green and red bell peppers into cubes.

Chop the spring onions and the green chilis (at an angle) and keep them aside.
Prepare the gravy
Take another cooking pan and add oil.

Let the oil heat. Then put the finely chopped ginger and garlic.

Sauté them for about half a minute and then add the onions, chopped green chilis, and bell peppers.

Stir them all for a minute. Add 1 tbsp spring onions to it.

Sauté them for 1 more minute. We don't want to overcook the veggies or else they will get mushy.

While the veggies are getting fried, take a medium-sized bowl and put in the tomato ketchup, soy sauce, red chili sauce, green chili sauce, Kashmiri red chili powder, vinegar, corn starch, and water (½ cup).

Mix all these into a slurry and pour them into the kadhai or pan.

Combine all the ingredients. Add another 1 cup of water (you can add more or less if needed).

Add salt and sugar to taste.

Give it a taste test. Add if anything is needed.
Add the paneer cubes
While the gravy is simmering, add the fried paneer cubes.

Stir them nicely and coat the pieces with the thick gravy.

When it comes to a desired consistency, transfer them into a bowl.
Garnish
Garnish it with 1 tbsp spring onions, and black pepper.
ADVERTISEMENT
There you go! The tasty Chili Paneer is ready to be savored.
Serve it with any kind of fried rice or hakka noodles. These are great to mop up all the spicy and tangy gravy of the chili paneer.
The recipe will be a great addition to an occasion or party menu. Make, share, and notice how all get impressed by this one.
Happy Cooking!
---
Affiliate Disclaimer: Some of the links provided in the recipe are affiliate links. This means when you buy anything using those links, you help support this website at no extra cost.
Find more Recipes
---
---