Chili Cauliflower can be a great snack and a main course dish. The savory and zingy recipe always finds a place in the heart of the foodies.
There is a certain crunch that comes from the florets. The gravy along with the other veggies elevates the flavors and the overall blend of texture.
ADVERTISEMENT
Make it for a family dinner or for a small party at home. All will be impressed and continue liking their fingers as soon as they eat it. This Indo-Chinese dish is super flavorful and will make you yearn for more.
Let us see the list of ingredients and the process to make this great dish.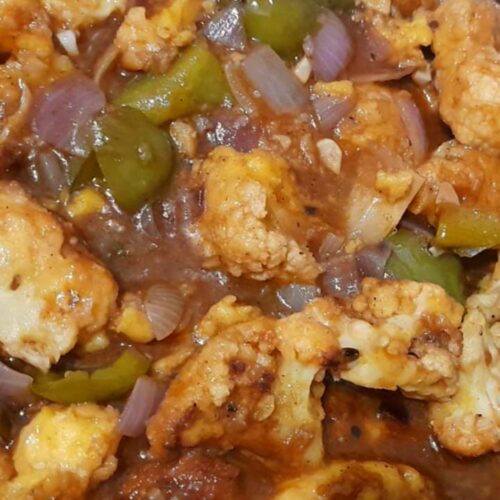 Chili Cauliflower (Gobi) Gravy Recipe
Tasty Chili Cauliflower Gravy recipe. Simple ingredients and instructions on how to make delicious Chili Cauliflower Gravy easily at home.
Equipment
1 Kadhai

1 Induction Cooktop
Ingredients
For marinating
1

Cauliflower

medium

3

tsp

Red Chili Sauce

2

tsp

Black Pepper powder

2

tsp

Ginger Garlic paste

2

tsp

Soy Sauce

Salt

to taste

Corn starch

All Purpose Flour

Water
For the Gravy
1

cup

Green Bell pepper

1

Onion

large

2

tbsp

Spring Onions

3

Green Chilis

2

tbsp

Garlic

finely chopped

1

tbsp

Ginger

finely chopped

1½

tbsp

Soy Sauce

4

tbsp

Tomato Ketchup

3

tbsp

Red Chili Sauce

3

tbsp

Green Chili Sauce

1½

tbsp

Vinegar

2

tbsp

Black pepper

1

tbsp

Kashmiri Red Chili Powder

for color

Salt

to taste

Sugar

to taste

Corn starch

Water

Vegetable Oil
Instructions
Boil the Cauliflower florets
First, separate all the florets from the cauliflower. Cut the big chunky florets into medium size pieces.

Next, put them in water and rinse once.

Take a boiling pot. Add water and salt and let it come to a boil.

Next, turn off the gas and add in the cauliflower florets.

Blanch them in the hot water for about 5-7 minutes.

After about 5-7 minutes, drain out all the water and transfer the florets in a large mixing bowl.
Coat the Cauliflower florets
In that add the ginger garlic paste, red chili sauce, black pepper powder, soy sauce, and just a bit of salt (if needed).

Combine all the ingredients well and coat the florets nicely. Keep them aside.
Prepare the veggies
While the florets are resting, wash the bell pepper (or capcicum) and cut it into cubes.

Next, cut the onion into cubes. Chop the spring onions and the green chilis (at an angle) and keep them aside.

Finely chop the ginger and garlic.
Fry the Cauliflower florets
After the resting time, add all-purpose flour (around a cup), and cornstarch (around 3-4 tbsp) in the same mixing bowl where the florets are kept.

Add some water and mix them.

The consistency of the batter should be smooth and not too watery (we want a semi-thick consistency that will stick well with the florets).

Add some more salt to taste, black pepper, and a bit of red chili sauce (If you want to).

Now, take a kadhai or a deep-frying pan. Add oil and let it heat.

Keep the flame on medium and let the oil heat until it smokes.

Next, gently lower the coated florets of cauliflower into the hot oil.

Fry them until they turn golden brown from all sides. Keep the flame on medium.

Do this in batches and then transfer them onto a kitchen tissue. This will soak off the excess oil.
Prepare the Gravy
Next, take another cooking pot and add oil.

Let the oil heat. Then put the finely chopped ginger and garlic.

Sauté them for about half a minute and then add the onions, chopped green chilis, and bell peppers.

Stir them all for a minute. Add 1 tbsp spring onions to it.

Sauté them for 1 more minute. We don't want to overcook the veggies.

While the veggies are getting fried, take a medium-sized bowl and put in the tomato ketchup, soy sauce, red chili sauce, green chili sauce, Kashmiri red chili powder, vinegar, corn starch, and water (1/2 cup).

Mix all these into a slurry and pour them into the kadhai or pot.

Combine all the ingredients. Add another 1 cup of water (you can add more or less if needed).

Add salt and sugar to taste.

Give it a taste test. Add if anything is needed.
Add the cauliflower florets
While the gravy is simmering add the fried cauliflower florets.

Stir them nicely and coat the pieces with the thick gravy.

When it comes to a desired consistency, transfer them into a bowl.
Garnish
Garnish it with 1 tbsp spring onions, and black pepper.
ADVERTISEMENT
There you go! The Chili Cauliflower is ready to be savored. Pair it with some kind of fried rice or hakka noodles to mop up all the savory gravy.
You can even have it as an appetizer. For that, make it a bit dry (just adding less water would work while keeping a check on the proportion of sauces).
Make it on any day or even during a party or any occasion. Gobble and cherish every bite you take. Eat up!
---
Affiliate Disclaimer: Some of the links provided in the recipe are affiliate links. This means when you buy anything using those links, you help support this website at no extra cost.
Find more Recipes
---
---