The Chinese flavour is a blend of sweet, sour, and sizzling tastes.
Chinese food makes use of vinegar and sauces as the base for its delicious recipes.
ADVERTISEMENT
You must have tried Chilli chicken or Chilli paneer. Today I have brought for you a yummy veg recipe, Chilli cauliflower.
So let us take a look at the preparation of the recipe…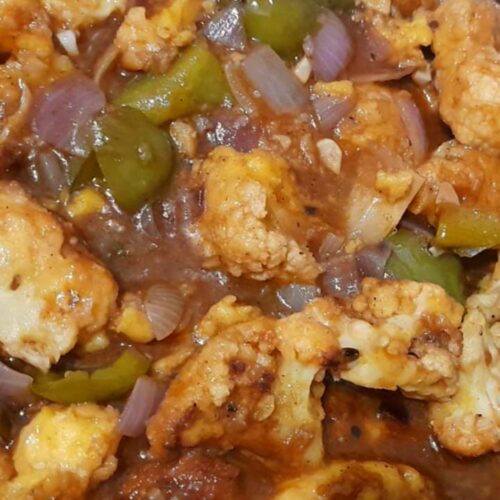 Chili Cauliflower (Gobi) Gravy Recipe
Tasty Chili Cauliflower Gravy recipe. Simple ingredients and instructions on how to make delicious Chili Cauliflower Gravy easily at home.
Ingredients
Flour

Besan

Salt

Cornflour

Sugar

Onions

Capsicum

Green chillies

Chopped

Garlic

Chopped

Vinegar

Soy sauce

Red chili sauce

Tomato ketchup

Black pepper

powder

Refined oil

Chicken chili masala

(Get on Amazon)
Instructions
To make chilli cauliflower, chop the cauliflower into medium size florets and wash them properly.

Then boil the cauliflower florets in a boiling water. You can add salt for boiling the cauliflowers faster.

After the cauliflower are boiled properly, strain the water and keep them aside.

Make a thick batter of besan, all-purpose flour, salt and a pinch of red chilli powder.

Now chop 3-5 garlic cloves and 4-5 green chillies finely.

Now dip the green chillies and garlic in vinegar. This magical trick will add a Chinese flavour to your food.

Now add refined oil in a pan (Khadai) and heat it well.

Fry the cauliflowers dipped in the besan and flour batter.

Now add the garlic and chilies dipped in vinegar.

Then add the roughly chopped onion and capsicum in the pan.

Add salt and sugar accordingly.

Now sprinkle 1tbs of Chicken Chilli Masala. Adding this masala in not mandatory.

Now add chili sauce & tomato ketchup one by one.

Mix all the ingredients very well.

After you have added the sauce-mix, add the fried cauliflowers and saute those well.

Now add a little water according to the quantity of gravy you want.

Now add cornflour slurry to thicken the gravy. Cornflour generally adds consistency to the gravy or curry.

Now sprinkle Black pepper powder to make it spicy and tasty.

Serve it hot.
ADVERTISEMENT
I am pretty sure that you would be loving this simple recipe.
You can have it with roti, Paratha or fried rice.
---
Affiliate Disclaimer: Some of the links provided in the recipe are affiliate links. This means when you buy anything using those links, you help support this website at no extra cost.
Find more Recipes
---
---