If you are getting an urge for a tasty and satisfying snack, give the juicy and crunchy chicken popcorn a try. This delectable item is relished by the people of almost all age groups. The dish has its own essence and flavor profile.
These tiny morsels can be eaten as an appetizer or as quick bites any time you feel like. It will satisfy your cravings and taste buds all at once. The bite-size chunks are super addictive and more interestingly, pretty easy to make.
ADVERTISEMENT
The recipe can be prepared in various ways. You can use your own combination of herbs and a different way to cook the chicken pop corns, be it baking, air frying, or frying in oil. Take the dip of your choice and enjoy the food.
Let us see what are the ingredients and how to make it for a great result.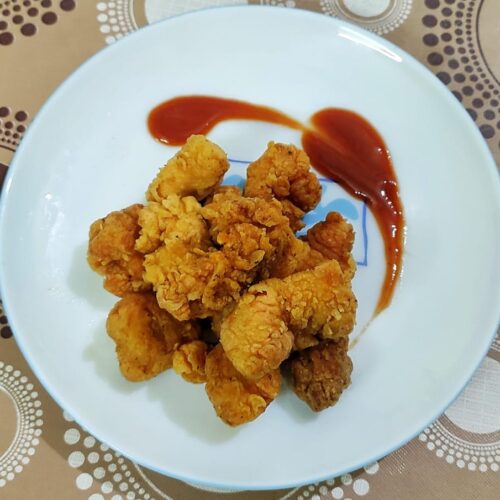 Chicken Popcorn Recipe (Crispy and Delicious)
Recipe to make crispy Chicken Popcorn at home. Simple ingredients, instructions, and equipment to cook tasty Popcorn Chicken easily.
Equipment
1 Induction Cooktop

1 Kadhai

1 Mixing Bowl
Ingredients
2-3

Chicken breasts

skinless and boneless

1

cup

Buttermilk

2

Eggs

½

cup

Milk

1

cup

All-purpose flour

½

cup

Corn flakes

2

tbsp

Garlic powder

2

tbsp

Onion Powder

1-1½

tbsp

Dried oregano

1

tbsp

Dried Basil

2

tbsp

Paprika/ Red chili Powder

2

tbsp

Black pepper

½

tsp

Baking powder

Salt

to taste

Vegetable oil
Instructions
Prepare the chicken
First, clean and wash the chicken breasts really well.

Next, cut them into 1½ inch pieces.
Marinate the chicken
Take a mixing bowl and pour in the buttermilk. To that add some garlic powder, onion powder, paprika or red chili powder, dried oregano, dried basil, pepper, and salt to taste.

Marinate the chicken well and refrigerate it for up to 8 hours. If possible, keep it overnight. This will make the chicken pieces much softer and succulent.
Prepare the coating
Next, before starting to cook, take the all-purpose flour and cornflour in one plate. Crush the cornflakes coarsely and mix them with the flour.

Into the dry mix, add the dried oregano, paprika or red chili powder, garlic powder, onion powder, some salt, black pepper, dried basil, and baking powder.

Mix all the ingredients well.

Take a bowl and crack two eggs. Whisk them with some salt to taste.

Now, take the marinated chicken out of the fridge.
Heat oil
Take a kadhai or deep frying pan and put a generous amount of vegetable oil. Keep the flame on medium.

Let the oil heat until it starts to smoke a bit.
Fry the Chicken
While the oil is getting heated take one piece of marinated chicken and coat it well with the dry ingredient mix.

For a double coating take the already coated chicken and dip it in the egg wash. Take it out and again coat it with the dry ingredient mix. Shake off the excess gently (do not mix your dry and wet hands).

Repeat the process for all the pieces of chicken until you have no more left.

Keeping the flame on medium, fry the coated chicken pieces in batches.

Keep on frying until the chicken popcorn turns golden from all sides.
Garnish the chicken popcorns
Take them out on a plate covered with kitchen tissues. This will soak out the excess oil.

For extra crispiness, you can re-fry the chicken popcorn on high heat for just a few seconds. Make sure not to burn the outer coating.

Garnish them with some more pepper and dried herbs.
ADVERTISEMENT
Voila! Your Chicken popcorns are ready to be tossed into the mouth. Serve them with mayonnaise, tomato ketchup, and sweet chili sauce.
You can also present it with mashed potatoes, stir-fried veggies, or even with some veg rice and gravy. The delicious fried flavor comes through along with the savory spicy spice mix. The soft juicy pieces of chicken and the crispiness hit differently.
If you are feeling like it, enjoy it with a cup of filter coffee. Make it any time and once you start to eat, be certain that you will finish it up just in a few minutes. Share and savor it!
---
Affiliate Disclaimer: Some of the links provided in the recipe are affiliate links. This means when you buy anything using those links, you help support this website at no extra cost.
Find more Recipes
---
---