In many states of India, different types of chicken recipes are made.
Some of these yummy and tasty recipes have originated in India and some of the recipes are introduced in India by other countries.
ADVERTISEMENT
Chicken kebabs, Chicken Patiala to Chicken Maharani, are prepared in many states and in various restaurants.
Similarly, Chicken kosha is also a very tasty dish and you can easily cook this recipe at home. Chicken kosha is a very popular chicken recipe among Bengalis.
Let's see today, how you can cook Chicken Kosha at home in a very less time.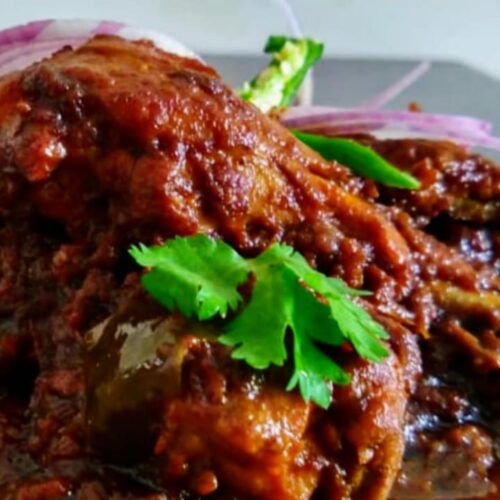 Chicken Kosha Recipe Bengali Style
Recipe for cooking delicious Chicken Kosha at home. Simple ingredients and instructions to make tasty Chicken Kassa within a few minutes.
Ingredients
500

g

Chicken

2

Onion

Large Chopped

4

tbsp

Onion

paste

2

tbsp

Ginger

2

tbsp

garlic paste

3

tbsp

green chili

Slit

1

tbsp

Coriander powder

1

tbsp

Cumin powder

1

tbsp

Red chili powder

1

tbsp

Kashmiri red chili powder

½

tbsp

Garam masala powder

Salt

Sugar

2

cups

Tomato paste

2

tbsp

sour yogurt

Chopped Coriander leaves

Mustard oil
Instructions
To make chicken kosha, first, take 500 grams of chicken in a bowl and marinate it with salt, turmeric powder, and sour curd.

Heat the mustard oil well in a pan.

Then add two whole red chilies and bay leaves in oil.

Saute these in the oil for 5-10 seconds.

After the aroma is released out of the oil, add chopped onion and onion paste to it.

Fry it until it turns golden brown.

When the onion is slightly golden brown in color, add ginger and garlic paste to it.

In another bowl, add a little cumin powder, a little coriander powder, turmeric powder, and chili powder.

Add some water and make a fine paste out of it.

Add the mixture to the pan, and add salt and sweet to taste.

You can add Kashmiri red chili powder to bring amazing color to cooking.

Then keep stirring all the ingredients on a high flame. Add tomato puree to taste better. Saute on a high flame and scrape the bottom of the pan and wait until the oil starts to get separated from the mixture.

Then add the chicken marinated with salt, yellow mustard oil, and yogurt in a pan.

Stir the meat for a while and add a little hot water to the pan so that the meat is mixed well with the gravy.

Then let the meat cook well for 15 to 20 minutes on low heat. Remember to cover the pan.

After 25-30 minutes, open the lid of the pan and check whether the meat is cooked well.

After that, sprinkle garam masala powder, and garnish it with fresh coriander leaves, slit green chili, and ghee on top.

The chicken kosha recipe is prepared.

Serve it hot.
ADVERTISEMENT
You can enjoy chicken kosha with paratha or fried rice. The lip-smacking chicken kosha is loved by all chicken lovers.
---
Affiliate Disclaimer: Some of the links provided in the recipe are affiliate links. This means when you buy anything using those links, you help support this website at no extra cost.
Find more Recipes
---
---