There are times when we all crave a delicious pizza but do not want it to be heavy with a soft thick crust. We also sometimes do not get the urge to make our own dough from scratch. This is where the Bread Pizza plays a huge role.
It is one of the simplest snacks to make and is a great solution for all pizza enthusiasts. This kind of pizza is quick to make and is an easy way to satisfy the yearnings. The flavorsome and divine recipe includes the best of both worlds. It has the convenience of soft fluffy warm bread with a crispy crust along with all the herby tangy delectable flavours of a pizza.
ADVERTISEMENT
With minimal effort and a simple combination of ingredients create your own blend of textures and flavors. Grab your favorite bread loaf, gather your choice of toppings, and get started with the cheesy delightful adventure.
Let us see what are the ingredients and how to make a delicious piece of joy.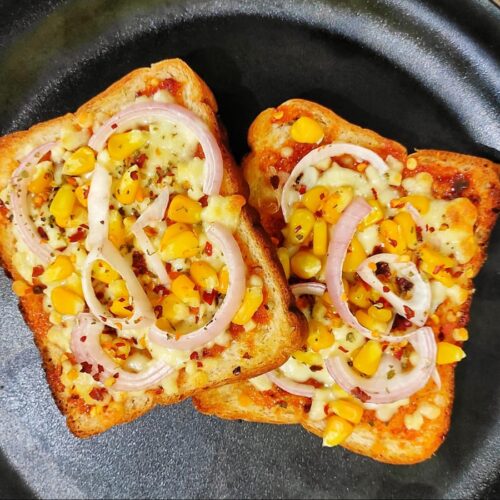 Bread Pizza Recipe (Quick and Easy in OTG)
Easy recipe to make Bread Pizza Ghonto at home. Simple ingredients, instructions, and equipment to cook quick and easy Bread Pizza in OTG or Oven.
Ingredients
1

Loaf of Bread

1

Tomato

large; puree

2

tsp

Dried Oregano

2

tsp

Dried Basil

1

tsp

Black pepper

Red Chili flakes

4

Garlic cloves

finely chopped

½

cup

Onion slices

½

cup

Sweet Corn

½

Cup

Capsicum slices

1

Chicken breast

optional

3

Button mushrooms

optional

Butter

Mozzarella Cheese

Cheese spread

Salt

to taste

Vegetable oil

Fresh Basil

optional
Instructions
Prepare the sauce
First, in a pan add some vegetable oil. Let the oil heat until it smokes and add in the finely chopped garlic.

Keep the flame on low and fry the garlic until it starts to change color to golden brown.

Next, add the tomato puree.

Sauté the garlic and the tomato puree for around 5 minutes. Stir continuously.

Next, add 1 tsp of dried oregano and dried basil to the masala.

Combine every element nicely and add salt to taste.

Now, let the masala cook for a few more minutes, and then add the black pepper. Keep the consistency a bit on the thicker side.

Take a taste test. If you feel all the proportions are satisfactory, then transfer it to a bowl and keep it aside.
Preheat the OTG
While doing these preparations, preheat the oven to

250

°C

for 10 minutes.
Prepare the Bread pizza
For the pizza, prep the slices of bread.

Take a slice and spread some butter. This is to give it a slightly crispy and moist texture.

Then, spread some of the tomato sauce on it.

Next, mix some creamy cheese spread and mozzarella cheese in a bowl.

Spread the creamy mix onto the bread slice.

Next, to make it more cheese put some more mozzarella cheese on top of it.

Next, add the kernels of sweet corn, slices of onion, and capsicum (optional).

If you want to add some chicken, then wash and cut them into 1-inch pieces.

Marinate them with some herbs of choice, pepper, and lime juice.

Next, fry the marinated chicken in some butter. Adding the chicken is optional.

If you want some mushrooms on your pizza, then peel and slice them thin. You can sauté them with some salt or just add them to the pizza. This step is also optional.

Sprinkle dried basil, oregano, and red chili flakes on the top of the toppings.
Bake the Bread Pizza
Repeat the process with all the slices. Then place the slices in batches on the grilling tray and keep them on the middle rack.

Bake the slices for 10 minutes. Check in between, to get a perfect cook.

Repeat it until you are out of all the slices.

Garnish the bread pizza with some basil. This is optional, if you have you can.
ADVERTISEMENT
Alright! So, your bread pizza is ready to be gobbled.
Pair it with some hot French fries and a fizzy drink of your choice. it can be a party snack, a great breakfast, an evening snack, or even an item that satisfies the midnight cravings.
Enjoy it with your family and friends and share the recipe with all the close ones if you like it.
Affiliate Disclaimer: Some of the links provided in the recipe are affiliate links. This means when you buy anything using those links, you help support this website at no extra cost.
Find more Recipes
---
---