The name "Biryani" is emotion isn't it? Biriyani is loved by everyone. There is no other place in the world where tempting and royal food like biryani is available.
Originally, the Persians brought this wonderful food to India.
ADVERTISEMENT
The preparation of this recipe is time taking. It requires a lot of patience to make Kolkata-style Dum Biryani.
Let's see how to easily make Kolkata-style Dum Biryani at home…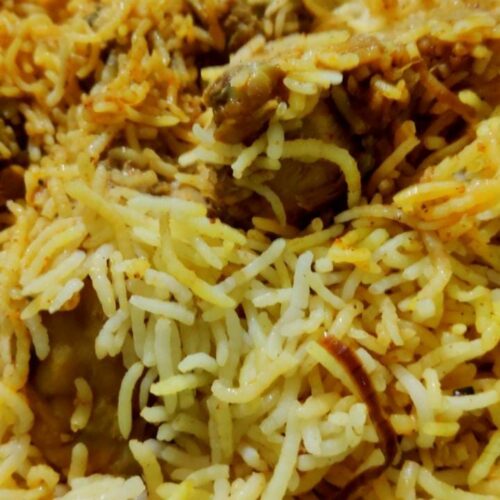 Kolkata Style Chicken Biryani Recipe (Easy to make)
Recipe to make delicious Kolkata-style chicken Biryani at home. Simple ingredients, instructions, and equipment to cook Bengali-style Biriyani easily.
Equipment
1 Kadhai

1 Induction Cooktop

1 Mixer Grinder

1 Dekchi
Ingredients
Ingredients for making Biryani
1

kg

basmati rice

1200

g

chicken

8-9

potatoes

medium size

3

onions

medium sized

3-4

ginger garlic paste

½

tablespoon

lemon juice

1

tablespoon

kashmiri red chili powder

3-4

tablespoons

biryani spice

2-3

drops

rose water

1½

drops

kewra water

5-6

drops

sweet perfume

meetha attar

saffron

A little

5-6

tablespoons

lukewarm milk

5-6

bay leaves

2-3

inches

cinnamon

1

tablespoon

turmeric powder

10-12

tablespoons

ghee

½

cup

white oil

Salt

7-8

eggs

optional

50

grams

bay leaves
Ingredients for making biryani spices
1

tablespoon

shah cumin

1

tablespoon

white pepper powder

25

cardamom

1½

Jayatri

1½

inch

cinnamon

¼

nutmeg

1

tablespoon

sugar

5

cloves
Instructions
Fry the potatoes
First you need to take 8-9 medium sized potatoes and wash and peel them well.

Then you can cut it in half or cut it into four pieces.

Let the potatoes boil in a pressure cooker.

When the potatoes are fully cooked and boiled, cool them and keep those aside.

Now add half a cup of ghee to a pan, and half a cup of oil.

You can use only refined oil here too.

Fry the potatoes until they turn golden brown.

After frying them lightly, transfer the potatoes into a different dish.
Prepare barista
To make the barista fry the chopped onion in 3 cm vegetable oil.

Divide the barista by 20 grams and 15 grams separately.
Make biryani spice
In a bowl, dry roast the cumin seeds, white pepper, cardamom, jaitri, cinnamon, nutmeg, kabab chini, and cloves in a dry pan over low heat.

When the aroma of these spices are released, turn off the gas and let the spices cool down.

Then grind all the spice ingredients well in a mixer grinder and make a fine powder.

Bengali style biryani spice is present.
Prepare the chicken masala
First take the chicken pieces, wash them and clean them well.

It is better to take bigger pieces of chicken to make biryani.

I have used four to six big pieces of chicken here.

Take half a cup of sour curd in a bowl and add Kashmiri red chili powder and half a tablespoon of salt.

Mix Kashmiri chilli powder and salt well with yogurt and add 3-4 tablespoons ginger & garlic paste in it again.

Then add one and a half spoonful of biryani spice prepared earlier.

Marinate the chicken well with all these ingredients.

Next to all these ingredients, add half a tablespoon of lemon juice and then mix a handful of barista i.e. fried onion with chicken.

Marinate all the ingredients well with the chicken and leave it for 45 minutes to 1 hour.

After marinating for 45 minutes to 1 hour, heat the oil in which you were frying the onion, i.e. barista.

Add the marinated chicken and continue cooking on a high flame for a few minutes.

After 5 minutes, add a little water and close the lid and let the meat cook a little for at least 10 minutes on high flame.

Then open the lid and let the meat fry for 8 to 10 minutes.

When the meat gravy is dry, turn off the gas.

You may avoid adding a little water if you want, but since the chicken gravy has to be very dry, I add only a little water.
Prepare biryani rice
First take one kilo of basmati rice.

Rinse the rice well for 5-6 times and soak it for 30 minutes.

After 30 minutes, take 3/4 part water in a pot and let the rice cook well.

In that water, add bay leaves, big sized cardamom, cloves, cinnamon.

Let the water boil in the high flame.

Now add the rice in the boiling water and do not allow the rice to boil completely.

Remove the extra starch only when it is 80 percent cooked.

Then spread the rice well in a clean place so that it is not overcooked.

When the rice is completely cooled down, set it aside.
Prepare the saffron milk
Take lukewarm milk in a bowl and add some saffron and let it soak for 15-20 minutes.

After 15 minutes, the color of saffron is completely mixed with milk and becomes soft.

Stir the milk well so that the entire color of the saffron strands is evenly mixed in the milk.

Then add a little (3-4 drops) of kewra water and rose water.

You can avoid using rose water if you want.

And in addition to all these, add sweet perfume( meetha attar) and mix all these ingredients well, with milk.

Keep this milk separately for using it later.
Arrange the biryani layers
Take a large mouthed pot.

And spread and brush ghee evenly on the base and inner wall of the pot.

Spread bay leaves in the bottom of the vessel.

Spread ½-¾ inch layer of rice evenly on bay leaves.

Put 2 pieces of chicken and 3 pieces of potatoes on top of the first layer of rice.

You can place thigh and breast pieces if you want.

You can also add any other chicken pieces as you like.

I have taken leg and breast pieces.

Then uniformly spread ½ tbsp of biryani spices over the layer.

Next add 3-4 tablespoons of chicken gravy and sprinkle with 3-4 tablespoons of saffron milk.

And then add 4-5 tablespoons of ghee, a handful of barista and 1/2 tablespoon of salt.

The first layer is complete.

Then arrange the second layer with rice using the same procedure as before.

Cover the second layer evenly with rice.

Similarly prepare the third layer with everything again as before.

Cover the last layer with rice in the same way.

Sprinkle 3-4 tablespoons of ghee and a little biryani spice on the last layer.

Then add salt and boiled eggs on top and cover the pot well.

You may not add egg in your biriyani.
Let the Biryani cook
Then cover the lid by putting a heavy weight upon the lid and let the biryani simmer for about 30 to 45 minutes.

For better preparation of the biryani rice, you can seal the lid of the vessel with kneaded flour.

This is called "dum style biryani preparation".

When the biryani vessel gets hot, you will realize that the biryani is almost prepared.

Then turn off the gas and open the seal or remove the heavy weight object from the top of the lid.

Open the lid & oh! the impressive aroma will steal your heart.

Delicious Kolkata style biryani is ready to serve and relish.
ADVERTISEMENT
This heavenly dish made with a combination of different spices and flavors is one of the highly prioritized delicacies.
People visit restaurants and fast food stalls to have this flavourful and irresistible recipe.
And now when you know the recipe, you can easily make it at home.
Oudh, Aminia, Arsalan, and Dada Boudi biriyani are the traditional restaurants in Kolkata that sell amazing biryani in West Bengal.
Make this awesome Kolkata-style dum biryani at home and enjoy it with raita or salad at home. Also, serve it to your guests and friends as well !
---
Affiliate Disclaimer: Some of the links provided in the recipe are affiliate links. This means when you buy anything using those links, you help support this website at no extra cost.
Find more Recipes
---
---