Bengalis have sweet tooth for desserts. various sweet treasures have sprung up in the streets of Bengal. Rosogolla, a dessert of cottage cheese made by Naveen Chandra Ghosh, has won the hearts of all.
Not only in Kolkata but people from all over the world have also called Rasgolla the best dessert.
ADVERTISEMENT
Many of them have tasted Rasamalai too.
Today I have brought you an authentic and unique recipe for Baked Rosogolla.
Let's see how to make baked Rosogolla…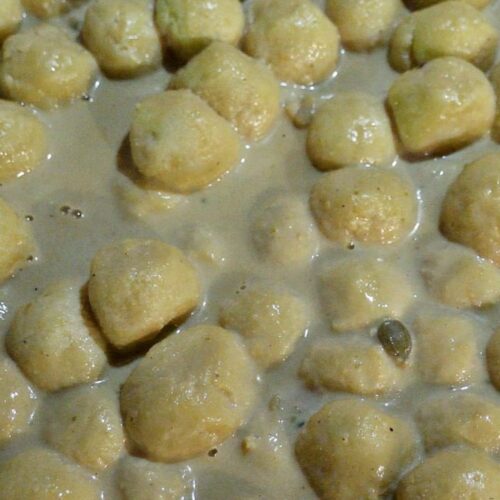 Baked Rosogolla (Rasgulla) Recipe Bengali Style
Recipe for making delicious baked Rosogolla Bengali Style at home. Simple ingredients and instructions to cook tasty baked Rasgullas.
Ingredients
5-6

Rosogolla

1

cup

Condensed milk

1/2

cup

Sugar

1

cup

Powdered milk

3-4

cups

Milk

Liquid

Cardamom powder
Instructions
To make baked rosogolla, first heat three to four cups of milk in a pot and then when the milk is hot, add condensed milk, powdered milk and sugar one by one on low to medium heat.

If you want, you can avoid sugar because condensed milk and powdered milk have good amount of sweetness. But if you love to eat more sweets, then you can add 1 to 2 teaspoons of sugar.

Keep stirring the rest of the ingredients including milk.

Add a little cardamom powder for better taste. If you don't want to give cardamom powder, you can avoid it.

After the consistency of the milk is almost thick, allow it to rest and cool for a few minutes.

Now squeeze out the excess rosogolla syrup and place those in an aluminum foil can.

Then pour the prepared condensed milk mixture well over the rosogolla.

Put the milk and rosogolla well in an aluminum container and spread the condensed milk mixture uniformly over the rosogollas.

Allow the rasgollas to microwave at 180 degree centigrade for 8-10 minutes.

Take it out of the microwave and when you see a golden brown coating on the rasgolla, you will understand that your baked rasgolla is ready to eat.

If you don't see the golden-brown baked layer over the rasgolla, let it bake in the microwave for a while longer.
ADVERTISEMENT
Apart from Rosogolla or Rasmalai, this new baked Rosogolla recipe is very tasty.
You can easily make such a fancy recipe at home and serve it to your guests.
Cover Pic Credits: Biswarup Ganguly
---
Affiliate Disclaimer: Some of the links provided in the recipe are affiliate links. This means when you buy anything using those links, you help support this website at no extra cost.
Find more Recipes
---
---