Aloo Posto is a Bengali dish that is enjoyed in almost every Bengali household. This classic dish has less spice but holds a delicious flavor profile. It is a simple food item with a nutty hint that will instantly cool your body.
Consume it throughout the year if you would like to. This staple can be a great side dish and combines magically with dal and Bhaat (steamed rice).
ADVERTISEMENT
The creamy dry texture coats the potatoes and the rice thereby coating your heart with its simple blend of flavours.
Try it out as this is one of the easiest recipes from Bengal.
Let's see what are the ingredients and how to make them with some simple steps.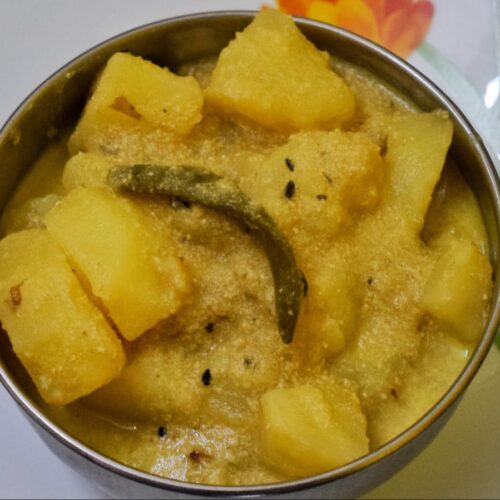 Aloo Posto Recipe (Bengali Style)
Recipe to make Aloo Posto easily at home. Simple ingredients, instructions, and equipment to prepare delicious Bengali-style Alu Posto quickly.
Equipment
1 Induction Cooktop

1 Kadhai

1 Mixer Grinder
Ingredients
4

tsp

Mustard oil

Poppy Seeds or Posto

1-2

Dried red chilis

Kaalo Jeera

black cumin seeds

3

Potatoes

big

4

Green chilis

Sugar

to taste

Salt

to taste
Instructions
Prepare the poppy seeds
First, soak your poppy seeds in water for about an hour.

After that add it to the mixer after straining with green chilis and water.

You can use mortar pestle (or Sil Batta) if you would prefer. This also enhances the flavor more than a mixer.

Make it into a coarse paste and keep it aside.
Fry the potatoes
Then, peel the potatoes and cut them into cubes.

Take a pan or Kadhai, and heat mustard oil until it starts to smoke lightly.

Add dried chilis and Kaalo Jeera and stir them.

Put in the potatoes and fry them for 5-6 minutes. The potatoes should be slightly colored and shouldn't turn brown.

Now, add water and let it cook.

Keep stirring at regular intervals on medium heat.
Add the poppy seeds
Now add the paste of poppy seeds and green chilis.

Then add salt and sugar to taste and cook the mixture on low heat.

Cook until the raw fragrance of the poppy seeds vanishes. This takes around 3-4 minutes with regular stirring.
Cook the Aloo Posto
Continue to cook the dish on low heat and put a lid on to soften the potatoes.

When the mixture dries a bit, splash some hot water to maintain the creamy gravy. This also prevents the potatoes from sticking to the base of the kadhai.

Stir all the ingredients until the potatoes are well cooked. You can keep the Aloo Posto a little creamy or make it dry.

Next finish the dish with 2 slit green chilis and a tsp of mustard oil for a great fragrance.
ADVERTISEMENT
Your delicious Aloo Posto will be prepared. You can serve it with steamed rice and dal to enjoy your meal. The fragrance and the taste will win you over.
The heat from the chilis hits the right spot along with the creamy nutty flavor of the poppy seeds. All of it combines inside the mouth and gives an explosion of piquancy.
---
Affiliate Disclaimer: Some of the links provided in the recipe are affiliate links. This means when you buy anything using those links, you help support this website at no extra cost.
Find more Recipes
---
---